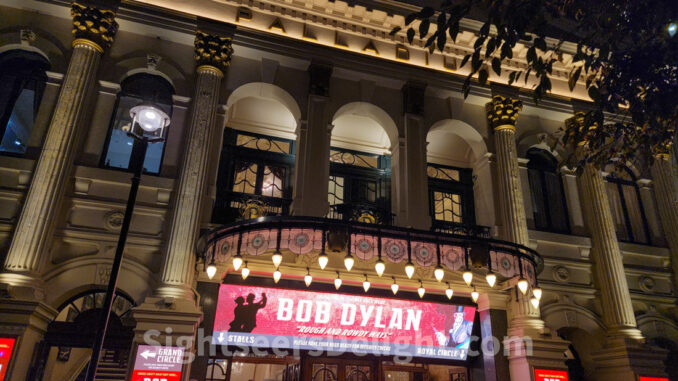 LONDON — Before heading to Bob Dylan's final night of a four-night stand at the Palladium, a historic theater in the city's Mayfair area, we decided to tour Royal Albert Hall.
The magnificent edifice dates to 1871 and has witnessed incredible events in its first 150 years. Of course, on this particular day, my mind couldn't help but think back to a certain event in 1966 that changed music as we know it.
I wasn't there for those legendary performances on Dylan's electric tour with The Hawks, a musical force in their own right that would become The Band. Perhaps I'm lucky enough to live in the era when those legendary performances on May 26 and May 27 of that year — the final two shows of the tour – are remembered and documented as the epic events they were.
It was a moment in time. It shaped popular music as we know it.
The world is today witnessing something equally momentous. An 81-year-old Bob Dylan brought down the house on the final night of a four-night engagement.
The crowd refused to leave after the final notes of "Every Grain of Sand," standing for an extended ovation. Stagehands began their work of breaking down the set, but the house lights remained off.
Dylan and his band emerged to recognize the crowd and take a bow, the venue's volume only growing to a near-deafening roar. It wasn't enough for these fans. The cheers kept on, and the maestro and his entourage emerged again.
Dylan signaled to the crowd, gesturing that there wouldn't be another song. For a guy who isn't playing an encore on this tour, the moment was remarkable.
"Only Bob Dylan could do two encores without playing a song," the gentleman next to me turned and said.
The show opened with a rousing rendition of "Watching the River Flow." The opening featured an extended instrumental section as if the band's groove didn't match what Dylan wanted to hear. He banged a riff on his upright piano until his lead guitarist followed along.
The band — comprised of guitarists Bob Britt and Doug Lancio; drummer Charley Drayton; multi-instrumentalist Donnie Herron and long-time bassist Tony Garnier — glided from one song to the next, playing nine songs from Dylan's latest album, "Rough and Rowdy Ways."
The rest of the evening's 17 songs were pulled from a catalog spanning 60 years, but none of the "hits" were there, which is what makes a Dylan concert so special. He doesn't feel compelled to bend to expectations or play what the critics want to hear. I suspect that's what brings fans back night after night.
The acoustic "When I Paint My Masterpiece" featured an equally astonishing interplay between Dylan and Herron, who picked up a fiddle and matched Dylan's piano riffs.
It also begged the question: Why does Dylan keep singing about "when" he paints his masterpiece. He's already turned out more than all the impressionists combined.
Touring in support of 2020's "Rough and Rowdy Ways," Dylan continues to re-invent his songs. He's defying the expectations for an 81-year-old troubadour; he still wanders from town to town, playing in some mesmerizing historic venues.
When I saw Dylan in Columbus, Ohio, in November 2021, the fourth show of the current tour, I thought the band sounded great. After a two-year hiatus and some personnel updates, it sounded like they hadn't missed a beat.
A year on, this group has gelled. Whether it's the re-imagined "False Prophet" from his latest album or "Gotta Serve Somebody" from 1979's "Slow Train Coming," Dylan sounds as inspired as ever.
While he did play "To Be Alone With You" from 1969's "Nashville Skyline," I wonder if he should replace it with "One More Night." Because that's what everyone on this remarkable London evening wanted. One more night with Bob.
Instead, it's "Tomorrow Night" from 1992's "Good as I Been to You." See you in Cardiff.