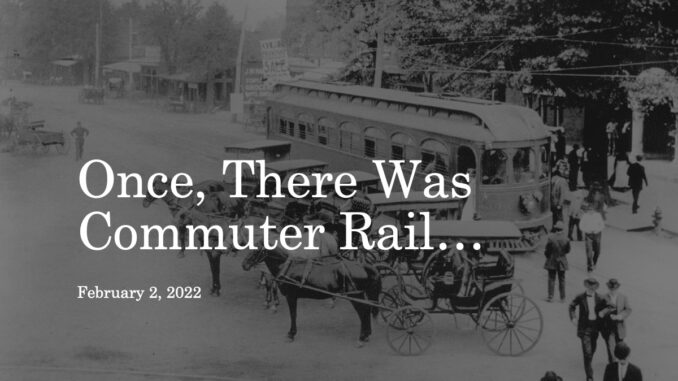 ATLANTA — Railfanning.org Editor Todd DeFeo kicked off a promotional tour for his newest book, the first complete history of the Atlanta Northern Railway.
DeFeo spoke to the Rotary Club of Vinings Cumberland. He previously addressed the group in August 2020, discussing the history of the Western & Atlantic Railroad and its impact on communities such as Vinings.
"As I started thinking about the legacy of the Atlanta Northern … it's a little bit different from the Western & Atlantic because the Western & Atlantic Railroad is still around today. Its tracks are still there; trains still operate over it," DeFeo told the group. "You could also look at some of the cities perhaps along the Western & Atlantic — Dalton, Kennesaw, Smyrna. Maybe even Atlanta and say that's the legacy of the Western & Atlantic. So that's the idea of the question of what is the legacy of the Atlanta Northern?
"I think that legacy starts with something I said at the beginning: 'Maybe one day, Cobb County will have a mass transit option.' When you look back, I think it's particularly interesting because we have infrastructure in place like a mass transit system and then we decide it's obsolete. It goes the way of everything that's past its usefulness," DeFeo said. "Then years later, after we remove it, we complain about it say, 'we should have a mass transit system.' I'm not trying to make a political argument in one direction or another, but my point is to know where we're going, we need to know where we've been. As we chart out a direction for the future, we need to understand our past.
"We live in an interesting time for history. Too often, we don't really know it, we tend to ignore it; sometimes we pretend our history is different from what it was. For me, history's always been appealing because it's complex," DeFeo added. "There are so many stories waiting to be discovered, waiting to be retold in a new light, stories like that of the Atlanta Northern Railway. Maybe there's a lesson in the past, in the story of the Atlanta Northern or elsewhere, about what worked and what we can take to heart as we build that better future."
The DeFeo Groupe published the book on Jan. 31.
This article was published by Railfanning.org and is republished here with permission. Click here to view the original.