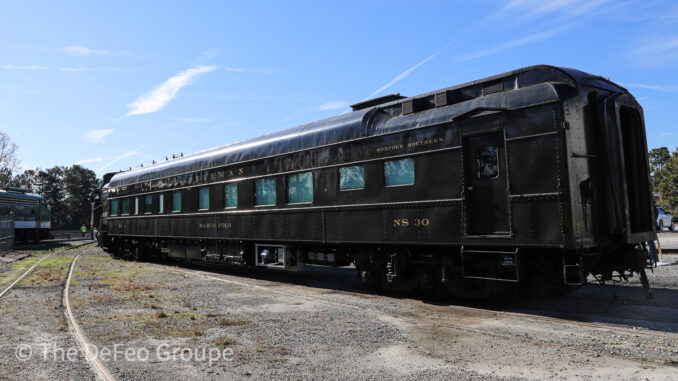 DULUTH, Ga. — Norfolk Southern delivered the historic Marco Polo Pullman car to the Southeastern Railway Museum this weekend.
The Pullman Company built the Marco Polo in 1927 as part of a small fleet of cars named for world explorers, reserving them for VIPs who chartered their own rail car. President Franklin D. Roosevelt traveled in the car when he was governor of New York and later as president, using it on trips to and from Warm Springs, Georgia.
Norfolk Southern No. 8099, a heritage unit painted with the paint scheme of Southern Railway, a Norfolk Southern predecessor railroad, pulled the car, effectively a predecessor to Air Force 1, into the Duluth museum.
"The Marco Polo holds a unique place in Norfolk Southern history, and we couldn't think of a more appropriate location for the car to be displayed than at the Southeastern Railway Museum," said John Friedmann, Norfolk Southern VP Network Planning & Optimization. "As we move our headquarters to Atlanta, forging relationships with surrounding communities like Duluth and organizations dedicated to preserving railroads like Southeastern Railway Museum will be critical to making Atlanta feel even more like home."
The Central of Georgia, a Norfolk Southern predecessor, bought the car in 1944 and converted it into an office. The Southern Railway assumed ownership of the car in 1963 after it merged with the Central of Georgia.
Over the years, the railroad has displayed the car, which was later renamed the Savannah, in Chattanooga, Tennessee, and at Union Station in Washington, D.C. For more than 25 years, Washington commuters walked past the Marco Polo, most not knowing the rail car's history.