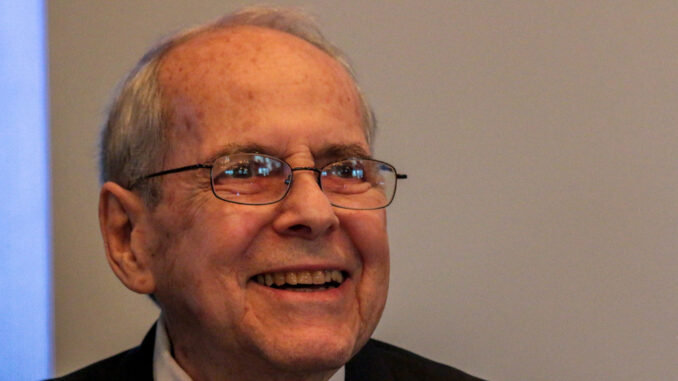 ATLANTA — Former Atlanta Mayor Sam Massell earlier this month urged Buckhead residents "to make our new rental residents feel at home, and we will benefit from their contributions in many ways."
In a speech before the Buckhead Business Association (BBA), Massell, president of the Buckhead Coalition, said "Buckhead will no longer be a commune of just private homeowners."
"It will be a mixture of old money and fresh thinking," he said. "It will be exciting if we join in rather than try a failing fault description. We will need to nurture their quality of life, so they will realize they made the correct decision."
Massell's remarks were part of his annual "State of Buckhead" address. Delivered to a packed house at the City Club of Buckhead, Massell recalled his own apartment-dwelling days after moving to Buckhead in 1952.
"I've always been very optimistic about Buckhead so we reported this growth with great pride, competing as we do with midtown and other surrounding submarkets," Massell said. "This meant related real estate jobs on site; living quarters for a labor market; accommodation of the increased population to attract expanding businesses, relocated businesses and new businesses."
But, Massell expressed some concern about the rapid rate of construction in the area. He estimated Buckhead could see upwards of 24,000 new residents in the next four to five years, a 30 percent increase over the community's current population.
"I'm concerned by the number of strip shopping centers with neighborhood convenience stores being demolished for the apartment buildings, and I'm concerned by some of the four and five story stick-constructed buildings that won't look very good in 10 years," Massell said. "I'm also concerned by some of the high-rises that show little concern for the character of their surroundings."
He added: "I'm mostly concerned, however, that we have not acknowledged the dramatic change taking place in what will become Buckhead's population image."
Massell served as Atlanta's mayor from 1970 to 1974 and as president of the City Council for eight years before that. As mayor, Massell is credited with establishing many of the icons that helped Atlanta grow into the city it is today, from the Omni Coliseum to Woodruff Park to the Metropolitan Atlanta Rapid Transit Authority (MARTA) to Buckhead's Charlie Loudermilk Park (formerly Triangle Park). He is also credited with opening City Hall opportunities to minorities.
Since leaving office, Massell, 88, has remained in public view. In 1988, he was tapped by a dozen business leaders to start the Buckhead Coalition, an invite-only civic organization comprised of 100 local CEOs.