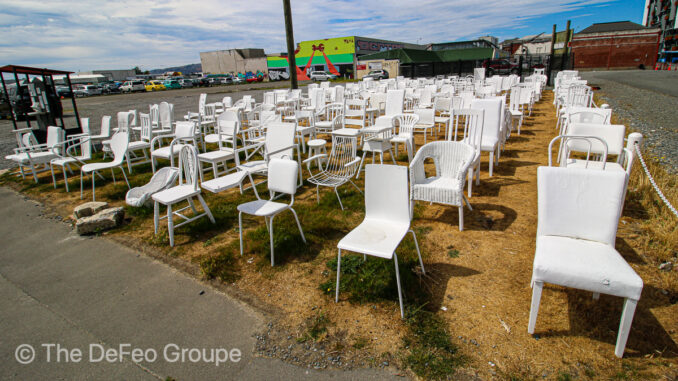 Exploring places means sometimes looking at the less than idyllic parts of its story. As the world pauses to remember the deadly 2011 Christchurch earthquake's anniversary, my thoughts turned to that resilient city.
The first time I visited, we stumbled upon the "185 Empty Chairs" installation. The unofficial memorial to the 185 people who died in the powerful earthquake is a poignant reminder of natural disasters' human toll. Their stories are incomplete; they weren't supposed to end this way.
Inspired by Vincent van Gogh's paintings, local artist Peter Majendie arranged the chairs and placed them the same day as the earthquake's first memorial. Its simplicity makes it all the more poignant.
(An official memorial to the earthquake — and worth visiting — opened in February 2017. "185 Empty Chairs" is moving again, this time to a permanent location.)
When I last visited the city in 2019, it was remarkable to see how Christchurch transitioned in just a couple of years since my previous visit. It felt alive, new buildings spelling a new birth of the town.
I recognize that I can view Christchurch with the luxury of an outsider. I know there are debates about the pace of rebuilding and how to rebuild, but I am just a traveler passing through for mere moments.
When I first visited the city in the wake of a personal tragedy, it filled me with hope and optimism. The Container Mall was a part of the landscape, but on my last visit, it was gone, deemed unnecessary thanks to revitalization.
When we think about travel, too often, we think about the glamorous parts of a destination. I understand it; a vacation is supposed to be just that: a getaway from reality.
No one wants to escape the grind just to learn about the harshness of history. But history is replete with stories of tragedy and heartache.
Conversely, it's also filled with stories of perseverance, triumph and overcoming these hardships. And sometimes, those are the stories that stick with you long after leaving a destination.