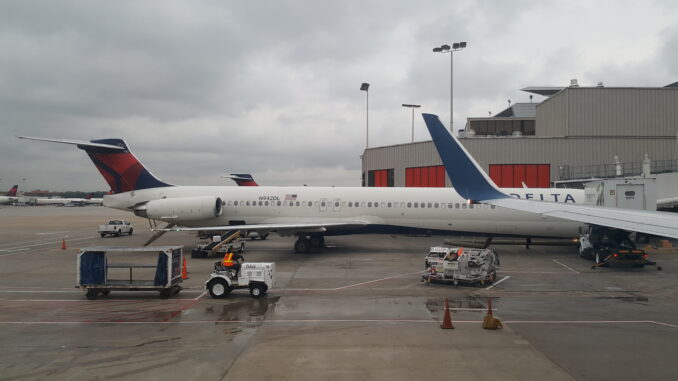 Delta Air Lines employees this week delivered pizza to travelers stuck at Hartsfield-Jackson Atlanta International Airport. They did so after the airline was unable to deliver passengers to their destinations following inclement weather.
In the wake of what the airline called a "perfect combination of unstable air, moisture from the Gulf of Mexico and strong winds converging over the American Southeast impacted Delta's busiest hub for much of the day," the airline canceled hundreds of flights. That left passengers stranded in airports nationwide as planes and crews were either out of place or unavailable for flights.
In a statement on Delta's website, Chief Operating Officer Gil West apologized to passengers, saying the "resulting recovery has not been ideal and we apologize for that." He said:
Wednesday's severe weather was unprecedented for Atlanta and the specific track and intensity of weather like this is often difficult to forecast. The convective activity and storm cells, mixed with tornadic conditions, continued to hit in and around the Atlanta Airport from the early morning hours and lasted through the evening, essentially halting much of the day's operation, prompting delays and cancellations.

Delta's Atlanta hub is also the world's busiest and on a blue-sky day, our people efficiently accommodate well over 150,000 people per day. Roughly 60 percent of our 1,250 aircraft fleet cycles through Atlanta on any given day as they arrive from and depart to destinations around the globe. But when weather like we experienced Wednesday hits Atlanta, the resulting impact to Delta's entire operation can be significant.
While weather often causes flight disruptions, many passengers voiced disappointment with the airline's apparent inability to recover from the storm and customer service agents' inability to handle passengers' calls or give timely and accurate information about flight statuses.
On Thursday night at McCarran International Airport in Las Vegas, passengers expressed frustration the airline canceled a flight to Detroit. The airline appeared to be ill-prepared for the number of passengers trying to depart from Sin City.