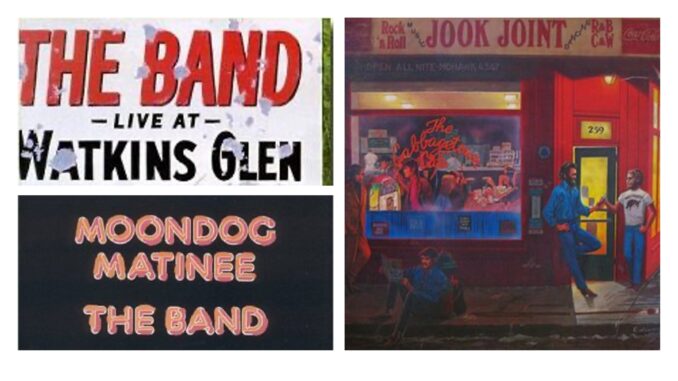 Fifty years ago, The Band played a few epic shows that remain etched in the group's historical lore. Five decades on, it's time for a true 1973 retrospective.
From March to June 1973, The Band went to Bearsville Studios in Woodstock, New York, to record "Moondog Matinee," an album of covers released on October 15, 1973. The group was less than two years remove from their triumphant string of performances the Academy of Music in the last week of 1971, which performed the basis of the 1972 double live album "Rock of Ages."
The year was a troubled one in The Band's storied history. Levon Helm discussed the tumultuous time in a 2002 interview with GRITZ magazine.
"That was all we could do at the time," he told the magazine. "We couldn't get along—we all knew that fairness was a bunch of [expletive]. We all knew we were getting screwed, so we couldn't sit down and create no more music. 'Up on Cripple Creek' and all that stuff was over—all that collaboration was over, and that type of song was all we could do."
Shortly after that, in July 1973, The Band played at the Summer Jam at Watkins Glen at the Watkins Glen Grand Prix Raceway outside Watkins Glen, New York. The Allman Brothers Band and the Grateful Dead also shared the bill.
Upwards of 600,000 people were in attendance. A few days after Watkins Glen, The Band performed at Roosevelt Stadium in Jersey City, New Jersey.
The performances have been widely bootlegged. While a live album of their Watkins Glen performance was reportedly in the works in 1973, it has never been released.
It's worth noting that two tracks from the performance did appear on the 1995 album, "Live at Watkins Glen." The album featured performances from other venues masquerading as Watkins Glen performances.
Releasing a retrospective performance alongside a reissued — and reimagined — album has become the norm for The Band. The label did it with its first four albums.
A retrospective could help put 1973 in a new light.
Often, the best retrospectives aren't the ones that highlight a universally lauded era. Rather, the most powerful retrospectives are the ones that make the listener revisit and rethink a moment in time.
In November 1973, shortly after their legendary performances, the group entered Village Recorder in West Los Angeles, California, to back Bob Dylan for his "Planet Waves" album released on January 17, 1974.
Who knows? Perhaps we could even round out a 1973 retrospective with some "Planet Waves" outtakes.