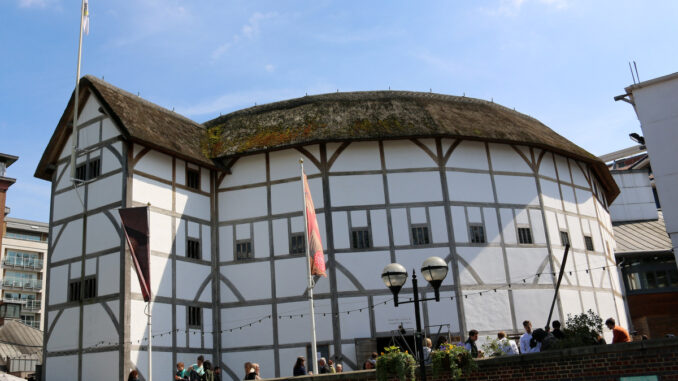 LONDON — Shakespeare's Globe Theatre is one of the best, if not most Intense, ways to experience a play just as 17th century audiences would have.
If the average high school student finds Shakespeare to be boring, a night at the Globe can surely change minds. From the moment the proverbial curtain opens, every moment of the evening is eventful.
People who opt to stand are part of the show. Actors spill off the stage and present plays from the chaos of the theatre floor. As the evening progresses, the Globe Theatre feels more like a pub after a couple of rounds rather than a refined evening watching a stage show.
The theater, which opened in 1997 on the south bank of the River Thames, is a recreation of the Globe Theatre that was built initially nearby by the Lord Chamberlain's Men — Shakespeare's playing company — in 1599 and rebuilt in 1614 after it was destroyed by fire a year earlier.
The rebuilt theatre operated until 1642 and was demolished in 1644.
The theatre owes its rebirth to American actor Sam Wannamaker. On a trip to London, the actor searched for the Globe, but only found a plaque on the side of a building denoting the location of the original theatre's location.
The theatre opened in 1997 with a production of Henry V. A second theatre, a recreation of the Blackfriars Theatre, opened next to the Globe in 2014.
When it comes to seating, there are two options: reserved seating and standing room in front of the stage as part of a crowd called "groundlings."
While the best way to experience the theater is during a show, the Globe is also open for tours. The tours offer a close-up view to the theater's workings, in addition to a historical overview of the theater.