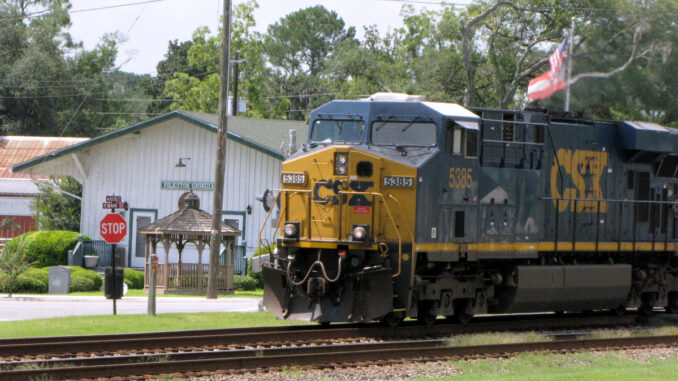 FOLKSTON, Ga. — Once upon a time, this small town of 3,300 people was best known as "The Gateway to the Okefenokee."
Today, to a different kind of visitor, it's known as a train lover's paradise.
It's a town where as many as 80 freight and passenger trains traverse every day. So, for people like me, it's the "magic carpets made of steel," as Steve Goodman would say, that draw me to town, not the acres of swampland.
Just north of town, two rail lines merge. That means dozens of trains pass through downtown every day. For motorists, that may equate to frustration. To railfans, it's heaven on two rails.
A few years ago, the town realized there was money to be made from these hordes of people who flocked to town to stand beside the tracks. So, with the help of a Georgia grant and the use of inmate labor, the city built a train-viewing platform.
But, this isn't the run of the mill platform; it comes complete with fans, lights, a radio scanner and wireless Internet — everything a railfan needs to enjoy the day.
While many know Folkston as "The Gateway to the Okefenokee," it was the railroads that shaped this town.
The Savannah, Florida and Western Railroad completed two railroads — the Waycross and Florida Railroad from Waycross, Ga., to the Georgia-Florida state line, and the East Florida Railroad from Jacksonville, Fla., to a connection with the Waycross and Florida Railroad at the Florida-Georgia state line.
Later, the Atlantic Coast Line built tracks through town. The line, now a part of CSX's Jesup Subdivision, from Jesup, Ga., to Jacksonville, Fla., also passes through town. The Atlantic Coast Line probably built its tracks through Folkston because of the nearby Okefenokee Swamp.
As a result, trains from the two railroads — today, two CSX subdivisions — come together, hence funnel, just north of town.
The town, incorporated in 1911, is named for Dr. William B. Folks, the first doctor in nearby Waycross, Georgia.