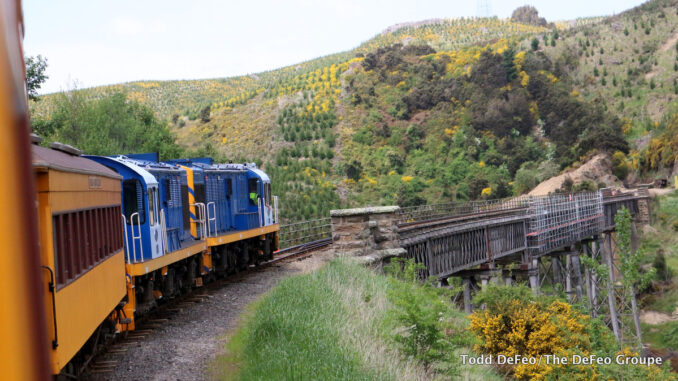 DUNEDIN, New Zealand — Arriving at the Dunedin train station, designed by a man nicknamed "Gingerbread George," was a harbinger of what was to come on a trip over the Otago Central Railway.
After watching the train crew, attach a second locomotive to the consist, my wife and I boarded one of the vintage yellow passenger coaches. We grabbed a flat white and waited.
At the appointed hour, the train swiftly departed from the railway station, whisking travelers past a decidedly urban landscape. But, that quickly changed once the train switched from the mainline track to a spur line once part of the Otago Central.
Departing Dunedin
As soon as the train departed from the greater Dunedin area, the landscape quickly changed. It's no longer urban. In fact, it becomes more stunning with each passing meter.
Before long, we approached the first of many railroad tunnels and narrow passageways adjacent to steep cliffs.
The Otago Central Railway constructed the line between 1877 and 1921. In doing so, the railroad created an engineering marvel that required viaducts and tunnels.
Today, the line may be primarily an excursion line for tourists, But it offers some of the most beautiful vantage points in the process.
I took hundreds of pictures on a recent ride. But none of these pictures do any justice to the beauty of the region. Simply put, this scenic tour is a must-do — certainly in Dunedin but perhaps for the whole of New Zealand.
Surprising and inspiring
The station, completed in 1906, was the third in Dunedin. George "Gingerbread George" Troup, was New Zealand Railways' first official architect. While the station was the busiest in New Zealand when it opened, regular train service hasn't stopped in Dunedin since 2002.
Troup designed many stations, but the Flemish Baroque-inspired edifice in Dunedin is arguably his most famous design. The station's design is a bit of a surprise, much like Dunedin itself.
Locals kept telling us the city was a college town, and indeed, it had a different vibe than so many other places we visited in New Zealand. Its architecture is quite unique, and perhaps nowhere is that more apparent than the city's train station, with its remarkable churches as the exceptions.
Summing up New Zealand in a few words is hard, if not impossible. From its incredible culture to its phenomenal cuisine to its friendly people, New Zealand should top any traveler's list of destinations.
Aotearoa has an incredible way of surprising and inspiring. Every turn seems to lead to a more stunning vista. And, a trip over the Otago Central Railway aptly proves this.