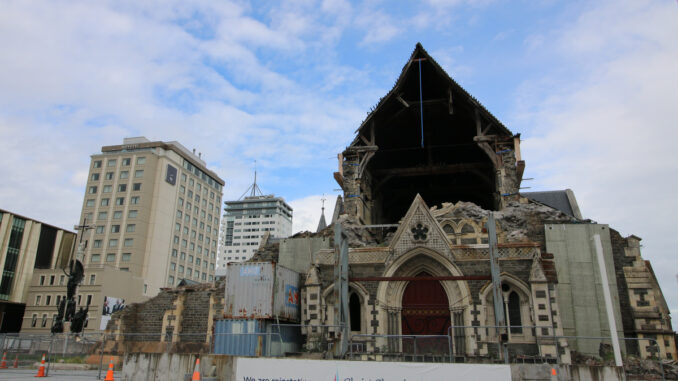 CHRISTCHURCH, New Zealand — It could take upwards of a decade to restore the ChristChurch Cathedral to its former glory, but work to stabilize the structure is about to commence.
The cathedral has been closed since it was heavily damaged during a February 2011 earthquake that killed 85 people; aftershocks in June and December 200 further damaged the structure. In 2017, officials approved funding for the restoration.
The cathedral's foundation stone was laid in 1864, while the nave and tower were consecrated in 1881. The transepts, chancel and apse were completed in 1904, while the visitor center opened in 1995.
"We are making sure it is 21st and 22nd century ready within that 19th century envelope," Stuff quoted senior project manager Tim Anthon as saying.
Workers will reinstate the cathedral and return it to its pre-earthquake appearance in three phases starting with main Cathedral building, according to the project site. The ancillary buildings (such as the visitor center) and the tower will follow.
While design work is underway, reinstatement of the cathedral can only start once the structure is stabilized. Stabilization work will begin in the first quarter of 2020, and officials estimate it will take between 12 and 18 months.
Officials estimate it will take seven to 10 years to complete the project. It is not entirely clear how much the project will cost.
"The reinstated Cathedral will retain as much of the original heritage fabric as possible," Jenny May, heritage advisor for the project, said in a September release. "Importantly, what it will always retain are its stories; the spiritual, social and cultural history that makes it such an important icon in our city's life and history. Once reinstated the Cathedral will be a safe, functional, flexible and comfortable place for worship and community gatherings ready for present and future generations but respecting its 19th century envelope."