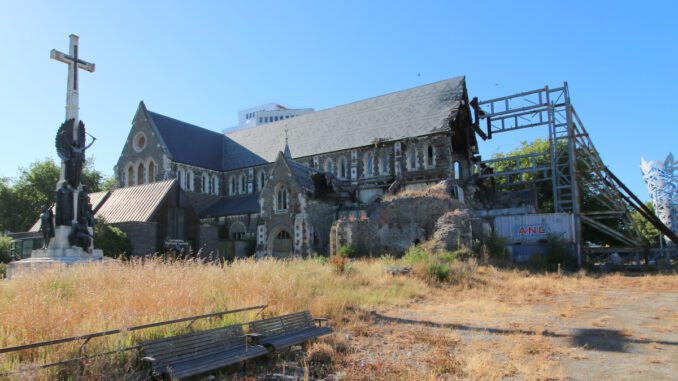 ​CHRISTCHURCH, New Zealand — The New Zealand government will contribute $10 million NZD (nearly $7 million) to help rebuild the historic Anglican cathedral in Christchurch, the New Zealand Herald reported.
The Christchurch Diocesan Synod earlier this year voted to reinstate the cathedral, built between 1864 and 1904 and heavily damaged during a February 2011 earthquake that registered 6.3 on the Richter scale. New Zealand Parliament passed the bill on Wednesday evening in Wellington, stuff.co.nz reported.
The government also approved a $15 million NZD loan, while the Great Christchurch Buildings Trust (GCBT) pledged $13.7 million NZD in donations, according to the stuff.co.nz report. The loan will not have to be repaid if certain conditions are met.
"This Bill is an important step in the reinstatement of this Canterbury icon and part of the National-led Government's package agreed in September. Christchurch can now move forward with the restoration of the building," National Party List MP Nicky Wagner said in a statement. "It has taken a lot of work to get to this moment and this milestone in the city's rebuild could not have been reached without a huge amount of work from a number of parties including the Christchurch City Council, the Anglican Synod, Church Property Trust, the Greater Christchurch Buildings Trust, and other community and heritage groups."
City councillors in Christchurch have also approved a $10 million NZD grant for the project, stuff.co.nz reported. The approval came after the council received 1063 submissions about the grant, with 54.5 percent opposed and 45.2 percent in favor, according to the report.
The restoration is expected to cost $104 million. It could take 10 years to rebuild the cathedral.