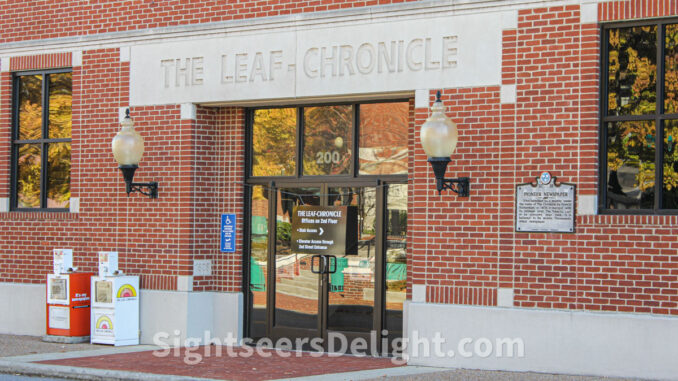 The Leaf-Chronicle is a daily newspaper that claims to be the oldest in Tennessee. The newspaper traces its origins to 1808, the year the Clarksville Chronicle purportedly began publishing.
It serves the Middle Tennessee city of Clarksville and some surrounding areas. The newspaper is owned by Gannett Company, which also owns USA Today and The Tennessean in Nashville, Tennessee, among dozens of other newspapers nationwide.
The modern newspaper was created in March 1890 when W.O. Brandon and W.W. Barksdale, owners of the Clarksville Semi-Weekly Tobacco Leaf, purchased the weekly and daily editions of the Clarksville Chronicle from W.P. Titus.
The Tobacco Leaf began publishing in February 1869. Brandon and Barksdale acquired the newspaper in 1881 from M.V. Ingram and Clay Stacker. Stacker had acquired a stake in the publication in 1880.
The newspaper moved into its offices at 200 Commerce Street in about November 1947. The building, constructed in 1920, previously served as the location of Carney Auto Company.
On April 1, 1948, the newspaper announced it had purchased the edifice. The newspaper continued to own the building until selling the building to LL Acquisitions in March 2014.