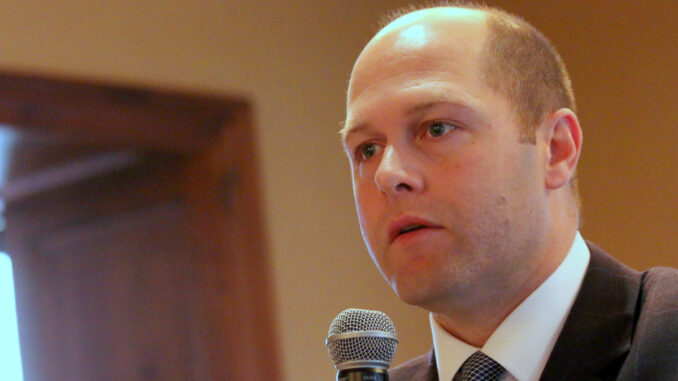 ATLANTA — Continuing to run social programs from President Franklin D. Roosevelt's New Deal and President Lyndon B. Johnson's Great Society, and without changes, they will cause a financial crisis in the country or more taxes, a leading state lawmaker said today.
"That's very important for us to know because when we're voting Republican or Democrat or conservative or liberal, everybody that gets elected has to deal with those programs that were put in place years ago, unless we have the political courage to change the trajectory of them," state Sen. Hunter Hill, R-Smyrna, told members of the Buckhead Business Association during the group's weekly breakfast meeting.
"In this current state, those programs unchanged will lead to two things: One, a fiscal crisis that … we're not able to turn around from in this country or more taxes," Hill added.
Because of rising personnel costs, the government has "neglected its duties" to invest in infrastructure and transportation, Hill told the audience.
"And that's a problem," the state lawmaker said. "I would like to see us invest more in those high-return investments and figure out how to invest less resources in people and personnel, except for in K-12 education, which we must invest in.
"…Through the years, government has grown expansively," Hill said. "I believe we've become a jack of all trades and a master of none instead of being (a) focused, value-driven organization based on taxpayers' return. And then, secondly, as a result of that, I believe we have usurped the role and the responsibility of citizens in terms of non-profits, Christian missions, Jewish ministries, whatever faith-based organizations to help people."