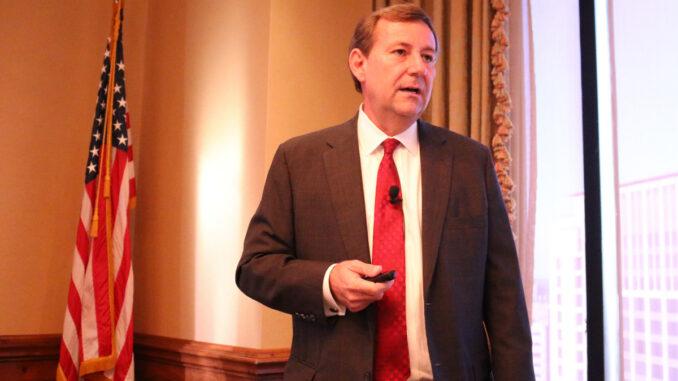 ATLANTA (defeo.biz) — More than 51 million people came to Atlanta in 2015, and the city could see upwards of 60 million visitors by 2020, the head of the Atlanta Convention & Visitors Bureau said last week.
The "City Too Busy to Hate" has seen a 44 percent increase in visitation to the city since the end of the recession, said William Pate, president and CEO of Atlanta Convention & Visitors Bureau (ACVB).
"People in the United States want to come to Atlanta and are coming to Atlanta in very large numbers," Pate said during an appearance before the Buckhead Business Association (BBA).
Hospitality employs an estimated 250,000 people. Visitors combine to spend $15 billion in spending annually.
"I always tell people we're kind of the gasoline that runs the engine," Pate said. "You don't pay attention to it until you're running out of gas."
Some of the reasons that make Atlanta a compelling destination:
80 percent of the country's population lives within a two-hour flight
There are more than 94,500 hotel rooms in Metro Atlanta
The metro area is home to 15,000 arts and cultural institutions
The city has more than $1.9 billion in new development opened in the past two years, including the Center for Civil and Human Rights, the College Football Hall of Fame and the Atlanta Streetcar. More than $2.9 billion in new development is also planned for the next four years, including a major overhaul of Centennial Olympic Park.
"No matter what your interest is, Atlanta has something to offer," Pate said.
Visitation last year made Atlanta it the fourth-most popular city for domestic visitors, ranking behind Chicago. In 2009, the city had a 56 percent year-end hotel occupancy. In 2015, the city had a 72 percent hotel occupancy rate.
Meanwhile, when asked about the likelihood of casinos coming to Atlanta, Pate predicted it likely wouldn't happen in the next few years.
"It won't have a huge incremental impact on our business because there are casinos everywhere now," Pate said. "It's not like in the days when Las Vegas was the only place you could gamble and so then everybody went to Las Vegas when they wanted to gamble. Now you can go to North Carolina, Tennessee, Alabama, Mississippi. You can go all around if you want to gamble.
"I don't buy the argument that we're going to see a huge incremental lift in our visitation," Pate added. "We will see an increase in spending because people who are here … will go to casinos, and they'll spend more money and create more tax" revenues.