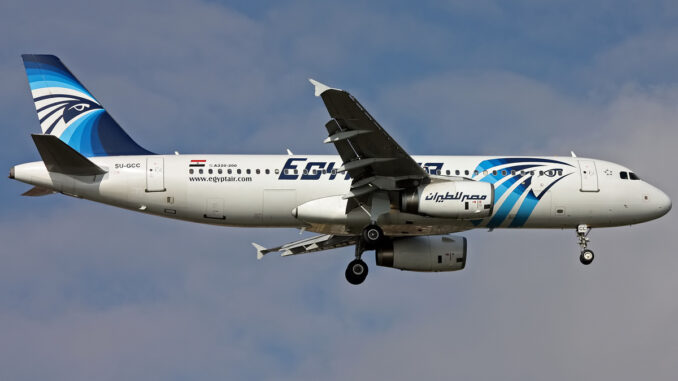 An EgyptAir flight crashed over the Mediterranean Sea today, killing all 66 people on board, according to published reports.
EgyptAir Flight 804 was flying from Paris to Cairo when it disappeared. Debris was found in the area following the crash, according to reports.
While it is unclear whether Thursday's crash was the result of a terrorist attack or a mechanical failure, Reuters reported, "Egypt's aviation minister said that a terrorist attack was more likely to have taken down the missing EgyptAir aircraft early Thursday morning than a technical failure."
Here is a look at fatal commercial crashes in 2015 and 2016:
May 19, 2016: EgyptAir Flight 804 disappeared over the Mediterranean Sea, just inside Egyptian air space. A total of 56 passengers and 10 crew members were on board the Airbus A320-233.
March 19, 2016: All 55 passengers and seven crew members on board Flydubai Flight 981 were killed when the Boeing 737-800 traveling from Dubai International Airport to Rostov-on-Don Airport in Rostov-on-Don, Russia, crashed after aborting its landing in Russia.
Feb. 24, 2016: A total of 20 passengers and three crew members were killed when Tara Air Flight 193, a Viking Air DHC-6-400 Twin Otter, crashed just minutes after taking off from Pokhara Airport in Pokhara, Nepal, to Jomsom Airport in Jomsom, Nepal.
Feb. 2, 2016: A suspected terrorist is killed after attempting to blow up Daallo Airlines Flight No. 159, an Airbus A321 that just departed Mogadishu International Airport.
Oct. 31, 2015: All 244 people aboard Metrojet Flight No. 9268 were killed when an ISIS-affiliated terrorist organization detonated a bomb 23 minutes into the flight from Egypt to Russia.
Oct. 2, 2015: Ten people were killed after Aviastar Flight No. 7503, a DHC-6 Twin Otter, crashed 11 minutes after take-off over Palopo, Indonesia.
Aug. 16, 2015: All 54 people aboard Trigana Air Service flight No. 257 were killed when the ATR 42-300 crashed in Indonesia.
March 24, 2015: All 150 passengers and crew when Germanwings Flight No. 9525, traveling from Barcelona, Spain, to Dusseldorf, Germany, were killed after the Airbus A320 crashed in southern France. The plane suddenly and inexplicably dropped more than 30,000 feet in a matter of minutes, leading authorities to blame the crash on pilot suicide.
Feb. 4, 2015: A total of 43 people are killed after TransAsia Airways Flight No. 235, an ATR-72, stalled upon taking off and crashed into the Keelung River in Taiwan. In addition to those killed, 15 people survived the crash.
For what it is worth, numbers from the International Air Transport Association (IATA) indicate the number of people killed in commercial accidents decreased in 2015. According to IATA numbers, just four accidents resulted in all 136 passenger fatalities in 2015. That is down from  the 641 fatalities in 2014 and below the five-year average of 504 fatalities, IATA said.