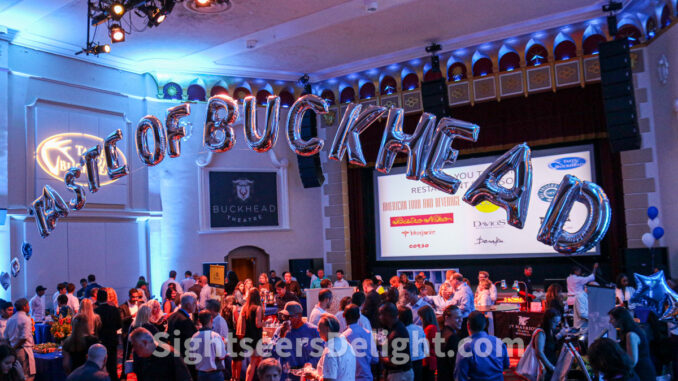 Hundreds turned out for the annual Taste of Buckhead. Held Sept. 24, 2015, in the venerable Buckhead Theatre in the heart of Buckhead Village, attendees sampled dishes from more than 20 restaurants and sampled beverages from a myriad of beer, wine and spirits vendors. The annual event is produced by the Buckhead Business Association (BBA).
Good eats are everywhere
Chefs from some of the hottest restaurants in Atlanta provide bite-sized samples of popular dishes. Pictured here are goat cheese tarts from F&B Atlanta.
Explore new offerings close to home
Attendees had the opportunity to sample wines from near and far. Pictured above, wines from Chateau Elan in Braselton, Ga., wait on ice.
Chef demonstrations provide insight
Chefs prepare their samples onsite and are available to answer questions about their delectable creations. Here, a chef from Bistro Niko prepares his masterpieces.
Try limited time products
Vendors offered samples of limited release beers. In this case, it was the Blood Orange Blind Pirate from Monday Night Brewing.
Try new-to-market products
New products were front and center. New distiller American Spirit Whiskey offered samples of its new whiskey.
Pose for a picture with a buck
Henry Irby established a general store in the area during the 1830s. After he prominently displayed the head of a deer in the area (possibly in front of his tavern), the community earned the nickname Buck's Head, which stuck and morphed into Buckhead. The above buck serves as the mascot of the Buckhead community.