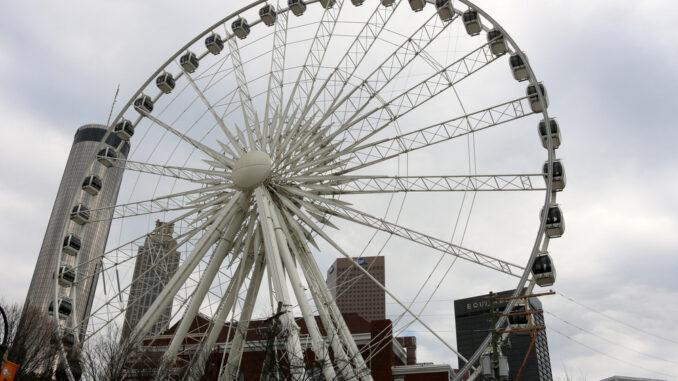 ATLANTA — The owners of Skyview Atlanta are planning to build a $5 million "drop-ride attraction," The Atlanta Journal-Constitution reported.
The new attraction would open in downtown in summer 2016. Additional details will apparently be released following further discussions with city officials.
"It's going to be a stand-alone attraction, which is unique to have in a major metropolitan area in the downtown core, and it will be the first of its kind," The Atlanta Journal-Constitution quoted managing partner Todd Schneider as saying.
The 200-foot-tall SkyView Ferris wheel is located in a parking lot owned by the Tabernacle, a former church that is today a concert venue. The attraction debuted in July 2013.
SkyView is similar to Ferris wheels in other cities, such as the famous London Eye. A similar wheel opened earlier this year off International Drive in Orlando, Fla.
At the end of 2014, the Atlanta City Council, extended an agreement with the companies that operate the SkyView Atlanta. The extended contract with Atlanta Partners LLC and The Tabernacle Group runs through Dec. 31, 2015.
The Atlanta ferris wheel was previously located in Bern, Switzerland; Paris; and Pensacola, Fla. An Escambia County tax collector in June sued Skyview, saying the the ferris wheel's operators owed $350,000 in property taxes.
Florida officials and the ferris wheel officials reached a tentative deal earlier this month.
"This is a vendetta by a public official who's up for re-election in Pensacola, Florida. Pensacola has always been angry that this wonderful icon left their city and came to Atlanta," WSB-TV quoted Jason Evans, a Skyview Atlanta spokesman, as saying.