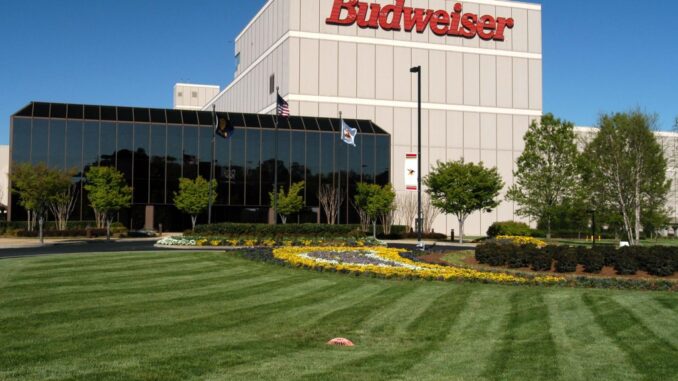 This spring, a fresh new experience is popping up in Cartersville, Ga., when the Anheuser-Busch brewery opens its doors for a limited number of public tours from March 19 through April 12. Opened in 1993, this is the first time the Cartersville brewery has welcomed the public for a behind-the-scenes look at how some of the world's most popular beers are brewed.
Every Thursday through Sunday from 11:00 a.m. to 5:00 p.m. during the pop-up, brewery staff will guide visitors through key parts of brewing and packaging operations during an hour-long tour that showcases the seven stages of the time-honored Budweiser brewing process. The tour begins at the brewhouse and moves through the starting cellar, packaging and fermentation areas before wrapping up at the beechwood aging cellar and finishing tank.
Following the tour, guests 21 and older can sample a variety of the beers brewed at the Cartersville brewery, including Budweiser, Bud Light and Shock Top as well as a special beer from Cartersville Brewmaster Travis Moore, Etowah Imperial Lager. The unfiltered, full-bodied imperial lager offers a distinct German hop aroma and offers slightly spicy and floral notes, brewed just for brewery guests this month.
"We've proudly brewed in Cartersville for more than 20 years, but it is really something special to open our doors to the community and show them all that goes into making their favorite beers," said Rob Haas, senior general manager, Anheuser-Busch Cartersville brewery. "This peek into our brewery will be a fun, educational experience we can't wait to share."
Guests will also get a glimpse at Anheuser-Busch's long history of supporting disaster relief through emergency drinking water donations. Partnering with wholesalers and the American Red Cross, Anheuser-Busch has donated more than 72 million cans of emergency drinking water since 1988. The Cartersville brewery packages and ships all emergency water donations on behalf of Anheuser-Busch.
To help kick off the month-long experience, the world-famous Budweiser Clydesdales will pay a visit to the brewery on Friday, March 20, Saturday, March 21 and Sunday, March 22. Guests are welcome to visit with the majestic horses and bring cameras for family-friendly photo opportunities.
Located at 100 Busch Drive Northeast in Cartersville, Ga., the brewery offers free parking to visitors. The brewery will be closed on Sunday, April 5 for the Easter holiday. Guests can purchase tour tickets at the brewery or online at etix.com. For more information on hours, schedules and events please visit facebook.com/HomeofBud or call 1(800) DIAL BUD.