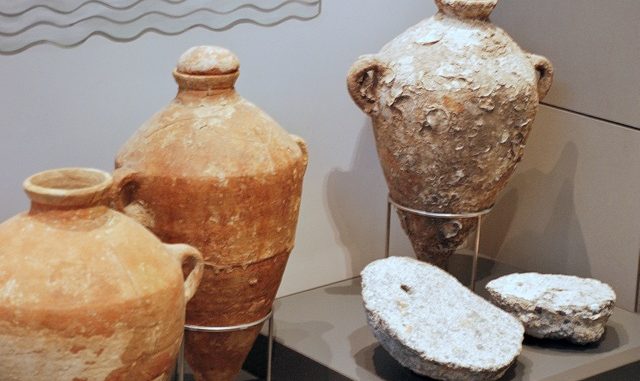 LaGRANGE, Ga. — The Explorations in Antiquity Center in LaGrange recently unveiled its new Biblical Life Artifacts Gallery to display artifacts from the Bronze Age through the late Byzantine Period.
The gallery includes more than 300 artifacts on permanent loan from the Israel Antiquities Authority (IAA).
The LaGrange museum is one of just seven museums in the world — and one of four in the United States — selected by the IAA to receive a collection of artifacts. The other museums in the United States that received artifacts are The Metropolitan Museum of Art in New York, The Jewish Museum in New York and The Skirball Museum in Los Angeles.
Artifacts on display range from simple oil lamps to ancient game boards to coins used by villagers in their daily routines. A replica of a New Testament-era tomb features ossuaries, carved stone boxes used to hold the bones of long-dead ancestors to showcase how families honored the dead while another exhibit focuses on how food was stored and prepared.
The new exhibit also features a replica ship hull to display artifacts — including jars (known as amphorae) used to transport oil or wine — retrieved from ancient shipwrecks.
The artifacts are displayed in their original context aimed at educating visitors about how the items were originally used 2,000 years ago. The new exhibit is an extension of the walk-through living history museum which aims to bring the first century to life and help visitors experience what it was like to live during Biblical times.
To showcase the artifacts, the Center built an exhibit hall that is humidity controlled, tornado-proof, fire-proof and burglary-proof. Center founder Dr. James Fleming, a Biblical archaeologist who spent nearly 40 years living and working in Israel, helped select the artifacts for display and was involved in some of the excavations where the artifacts were unearthed.
Located about 65 miles southwest from Atlanta, the Explorations in Antiquity Center is open from 10 a.m. until 6 p.m. Tuesday-Saturday. The Explorations in Antiquity Center was founded in 2005.