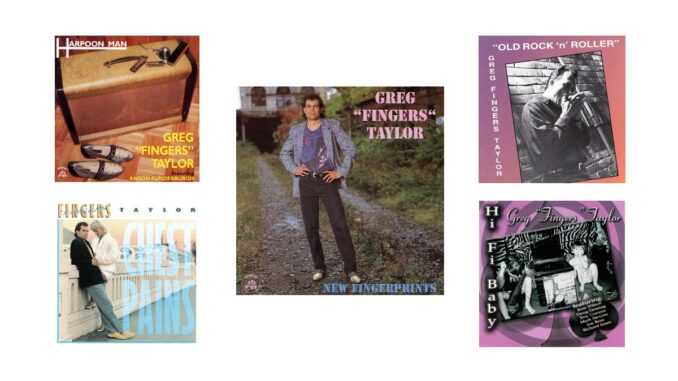 Greg "Fingers" Taylor may not have set out to be a solo artist and is perhaps best known as the original Coral Reefer Band member, but his solo albums left an indelible mark on the modern blues scene.
During his career, Taylor has released five studio albums and a pair of compilations.
Unfortunately, Taylor's solo albums are increasingly hard to find. But for anyone interested in delving into Fingers' solo career, here is a brief overview to help jump-start the exploration.
Click here to read more.
Harpoon Man (1984)
Taylor recorded his freshman effort backed by Anson Funderburgh and the Rockets. The result was a no-holds-barred blues record.
The album's highlight is "Dixie Diner," a Taylor original first recorded by Larry Raspberry and the Highsteppers. Other highlights include inspired covers of Charlie McCoy and The Escorts' "Harpoon Man" and Junior Wells' "Messin' With The Kid."
Click here to read a review.
Chest Pains (1989)
Taylor's sophomore is perhaps his best-produced album — and his only one for MCA Records. In exchange for the enhanced production, Taylor loses a bit of the blues grit that makes his other efforts so enjoyable.
Interestingly, this is the album with the most Taylor originals, including "Lost Boy," "Good Rockin' Woman," the stomping closer "Sunburn (Duval St. Stomp)," and the album's title track. But the song "Some White People (Can Dance)," which Taylor wrote with his former boss, Jimmy Buffett, garnered Taylor the most attention throughout his career.
New Fingerprints (1992)
Shortly after "Chest Pains," Taylor returned with an album closer to his blues roots. While perhaps less polished than "Chest Pains," the album's sound is more authentic to Taylor.
Highlights include "Extra Mile," "Waiting on Ice," and the Taylor original "Pork Juice," the album's closer and a powerful demonstration of Taylor's harmonica skills.
Old Rock 'n' Roller (1996)
This album was the first solo Taylor album I purchased, so I hold it in a special place. Aside from that bit of nostalgia, this might be the most accessible album for a new listener.
Taylor breathes new life into covers of Jimmy Cliff's "I Can See Clearly Now" and a mashup of W.C. Handy's "St. Louis Blues" and "the classic Sentimental Journey." But I always gravitated toward "Subway Swing," a Taylor original highlighting the interesting and sometimes nefarious that might turn up at the local dive bar.
Highlights include "Drop Down Mama," "Mississippi Steamboat," and the instrumental "Crosstown Boogie."
Hotel Maids, Highways & Honkytonks (1998) and Back to the Blues (2000)
Following his first four solo efforts, Taylor released a pair of "best of" albums — the 18-track "Hotel Maids, Highways & Honkytonks" and the 17-track "Back to the Blues." As its name might suggest, "Back to the Blues" focuses more on Taylor's blues recordings.
For the neophyte, either of these compilations is an ideal place to start an examination of Taylor's solo output.
Click here to read a review.
Hi Fi Baby (2003)
With 11 blues-infused tracks, Taylor delivers some of the grittiest and meanest harmonica playing ever. Though the album lacks any Taylor originals, it sounds like it could have been recorded decades earlier.
Highlights include "I Want My Fleetwood Back," "Hey Little Girl," and "Whisper."
Click here to read a review.
Additional Mentions
Check out Jimmy Buffet's 1978 live album "You Had to Be There" for a rousing rendition of Dixie Diner. Buffett also recorded a pair of Taylor's songs: "Big Rig" was included on the 1976 album "Havana Daydreamin'" and "Miss You So Badly" (co-written by Taylor and Buffett) on the 1977 album "Changes in Latitudes, Changes in Attitudes."
Additionally, Taylor contributed a couple of tracks to the compilation album "Appaloosa All Stars." The track "Bad Spell," co-written and performed with pianist Jay Spell, is a delightful take that lets Taylor's harmonica shine against a minimal musical accompaniment.
Taylor has also contributed live tracks to "Reunion – Live at the Windjammer" and "A1A Live," a live album from a Jimmy Buffett tribute band.