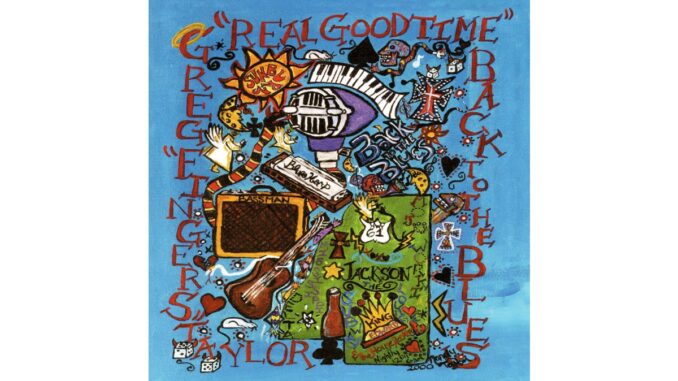 There are few in the music business who can sustain a career over twenty years and still be performing the music they love.
Greg "Fingers" Taylor is a rarity in a world of on hit wonders and pop culture icons that change every fifteen minutes.
Though most music listeners may only know the name from the liner notes of a Jimmy Buffett album Taylor has had a career of his own that has turned the heads of many in the world of blues music.
Taylor's career has produced four solo studio albums and two best of compilations not to mention the many appearances on others albums, including the Nitty Gritty Dirt Band and James Taylor.
Back to the Blues is Taylor's second best of package following 1998s Hotel Maids Highways & Honkytonks The 17 song collection is a must for anyone who claims a knowledge of the blues, or music for that matter.
Taylor emerged as a solo artist in 1982 with the release of Harpoon Man. In 1989, he released Chest Pains, which was followed by New Fingerprints in 1992 Taylor's last studio effort of all new material came in 1996 with the release of Old Rock 'n' Roller. Since that time Taylor has busied himself touring and recording with numerous artists.
Taylor's harmonica is about as good as it gets in the music world. He plays with an intensity and a virtuosity not commonly found Though his music has crossed the lines of genre it always seems to come back to blues.
From the opening notes on track one the instrumental "Sunburn (Duval St. Stomp)" it is impossible to not be hooked The album is 60 plus minutes of foot stomping high-energy music that everyone will love. If you don't you just might not have a pulse.
With songs like "Real Good Time," "Drop Down Mama" and "Shim Sham Shimmy," it is hard not to sit back relax and let the music do the talking
In addition to the amazing harmonica skills Taylor shows off his compositional skills Included on the album is perhaps Taylor's most recognizable work Dixie Diner.
The song which Taylor composed and first performed with his former band Larry Raspberry the Highsteppers has become a concert favorite both with Taylor as a solo performer and with his days with Jimmy Buffett.
All in all this album is a must for anyone who dares to call themselves a music aficionado.
For more information on Fingers Taylor connect to his web site at http://www.fingerstaylor.com.
Grade A+