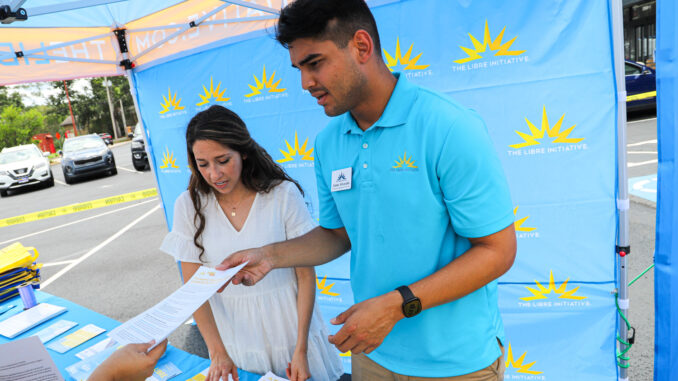 (The Center Square) — A pro-economic freedom group targeting the Hispanic community is sounding the alarm on the harm of inflation.
According to a report from Republicans on the Joint Economic Committee, the cost of inflation in Georgia exceeds the national average, costing families 12.1% more to live. Households in Georgia are paying $598 more per month and $7,175 more per year.
The LIBRE Initiative, a national group with a Georgia presence, recently descended on a supermarket in Smyrna to meet with residents, share their perspectives on the benefits of limited government and hand out $48.27 gift cards, which the group said represents about half a week of inflation for a family of four.
Here is an edited Q&A with James Alvarado, community engagement director for The LIBRE Initiative-Georgia.
What's the most significant concern people are sharing?
The biggest concern that they're facing is that they're paralyzed. They're paralyzed because Hispanics, on average, tend to make less than the average Americans. I would say less than $50,000 a year for a family of four.
They're having to choose [between] buying groceries or filling up their car. … They're spending all their money to survive right now, so there's no investment, there's no 401k, there's no savings, they're just trying to make do.
If you had the power, what would you tell federal lawmakers to focus on right now?
Immigration reform. There hasn't been any significant immigration reform since 1986, so we're advocating for a legislative solution. A few years ago, [the deferred action for childhood arrivals program] was a Band-Aid. It didn't solve the immigration problem; it just provided temporary residence. The problem with immigration right now is it needs an operation, not a Band-Aid.
You have over 10 million people here in this country that are undocumented. We don't believe that the solution is to deport them all. I believe there should be an option to at least provide a permanent residence so they could work. We definitely advocate for the increase in workers' visas. That is a solution to the immigration problem.
You have people out there that want to work and want to be part of the United States, and if they have legal residency, then they can actually pay taxes. There's also a massive labor shortage in this country. Everywhere you go, there are jobs that not many people want to do, but the immigrants that come here are more than willing to do.
As part of the reform, would you build the border wall?
Absolutely, because we believe in strong borders. We do believe in having more funding for the southern border because that's where a lot of people are crossing, and they're putting their lives in danger, and right now, our Border Patrol agents, our customs agents, they're over capacity. It's in crisis. …The root is that our immigration process is completely outdated, and you have to pay more money the legal way. …Our system is broken.
Is there anything state lawmakers can do?
When it comes to immigration, at least, one thing that we're … advocating for is House Bill 120. Here in Georgia, it's for DACA recipients to … qualify for in-state tuition. You have people that have lived here their entire lives, and they have to pay out-of-state tuition. We just want to make sure that they have the same opportunity.
What about from an inflation standpoint?
There's been the alleviation of the gas tax for the state. What states can do is that if they want to have less [taxes], just get rid of the gas tax altogether. …People are just trying to survive right now. We definitely are for having less taxes overall. The two things that we're for are economic opportunity and limited government. So, when you have more limited government, you pay less taxes.
This article was published by The Center Square and is republished here with permission. Click here to view the original.