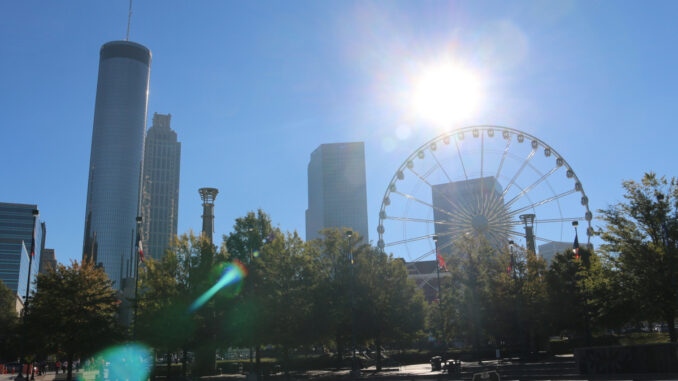 (The Center Square) — The number of tourists to Georgia continued to rise even amid the COVID-19 pandemic, a positive story that state officials seem reluctant to tell.
However, the size of the increase is difficult to determine as state officials say they don't have final numbers for 2021 and the first half of 2022. Statewide visitation numbers are reported annually.
In 2019, The Peach State reported 150.9 million domestic and 1.4 million international visitors. In 2020, during the COVID-19 pandemic, the state reported 151.8 million domestic and 397,000 international visitors.
The number of international visitors understandably dropped amid the pandemic. The U.S. border re-opened to fully vaccinated international visitors on Nov. 8, 2021.
Preliminary data for 2021 shows that the number of domestic visitors surpassed 2020 numbers by mid-single digits, state tourism officials told The Center Square. They plan to announce more detailed data at an event next month.
Although the final 2021 data isn't available, officials said the latest forecast from the U.S. Travel Association shows that some travel segments should return to 2019 levels in 2023-25.
"We expect Georgia's recovery to follow this same overall trajectory, though preliminary data indicates we're at the head of the pack in some regards, and some segments may become whole slightly ahead of schedule as a result," Mark Jaronski, the deputy commissioner for tourism at the Georgia Department of Economic Development/Explore Georgia, told The Center Square.
"Gaining market share among all 50 states during a worldwide pandemic that had a devastating impact on the travel industry is a great achievement and a testament to the leadership of Governor [Brian] Kemp and our General Assembly, as well as the effectiveness of our Explore Georgia marketing and statewide tourism industry," Jaronski added. "That said, we will not be satisfied until all segments of travel and all Georgia destinations return to — and surpass — the level of economic impact from tourism that we saw in 2019."
The tourism rebound has been positive for state and local government coffers.
According to the latest numbers from the Georgia Department of Revenue, state hotel/motel fees in May increased by 19.5% over May 2021. So far in fiscal 2022, fees increased 38.2% over the last fiscal year.
That trend has trickled down to the local level.
In Cobb County, for example, leaders expect hotel tax revenues to increase by about 51.6% in fiscal 2023 from fiscal 2020. The uptick comes as county officials plan to increase property taxes by more than 12.6%.
In fiscal 2020, the county reported more than $10.8 million in hotel/motel tax revenues. Amid the pandemic, in fiscal 2021 and fiscal 2022, the county adopted a budget anticipating more than $9.9 million in hotel/motel tax revenues.
However, in fiscal 2023, county officials proposed a budget with $16.5 million in hotel/motel tax revenues.
This article was published by The Center Square and is republished here with permission. Click here to view the original.