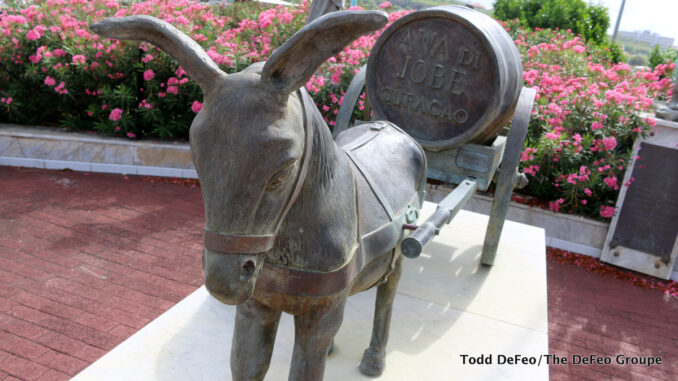 WILLEMSTAD, Curaçao — When visitors look to visit Curaçao today, they don't need to worry about the availability of water on the island. Residents will hype the quality of the island's drinking water, which is desalinated from the surrounding ocean, saying it is some of the best in the Caribbean.
However, during the early and middle years of the 20th century, water was a more precious resource.
Because of the water shortage, vendors would bring water in donkey-drawn carts to Willemstad. The practice seemingly continued until the middle of the 20th century. Postcards apparently dating to the 1940s show water donkeys.
To commemorate this fascinating bit of history, a statue was erected in 1991 in downtown Willemstad. The image of a donkey hauling a water cart is an endearing image of the island. For example, ham radio operators often use the image on QSL cards from the island.
The statue is located at the corner of De Ruyterkade and Theaterstraat (its coordinates are roughly 12°6'14.5 "N 68°55'45.5"W), near Plasa Bieu, Willemstad's famous Old Market.
Finding potable water on the island has been a challenge since the native times. The first inhabitants of the island apparently dug wells.
The first waterworks
Leonard B. Smith, a consul for Curaçao, established the Curaçao Waterworks Co. during the 1890s. The system relied on American windmills to lift groundwater, which was, in turn, used for both locals and steamships.
It was the first waterworks system for the island, and until its completion, most islanders relied on rainwater for the drinking water. In about 1911, the company installed a more modern distillation plant.
Smith, a native of Maine, left his mark on Curaçao in many ways. Perhaps none was more significant than the Queen Emma Floating Pontoon Bridge. In 1888, Smith proposed building to connect Willemstad's Punda and Otrabanda sections.
He is also credited with building the island's first power station.