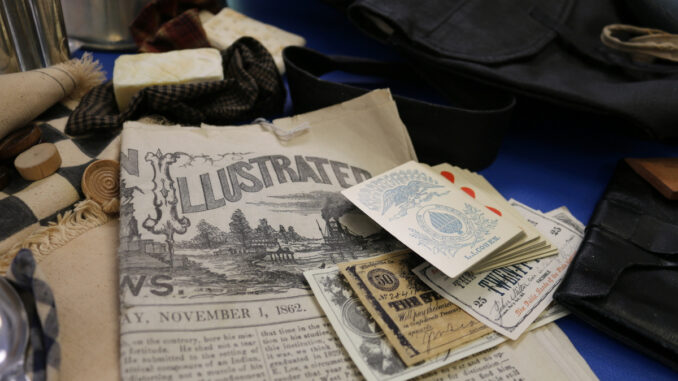 KENNESAW, Ga. — The Southern Museum of Civil War & Locomotive History will raise money during its Nov. 8 annual gala for a program that helps teachers at Title I schools in Cobb County teach the Civil War.
The "Civil War Classroom Experience" uses lesser-known stories from historical figures to bring to life the Civil War in a compelling way. The program, which targets fourth-grade students but can be adapted for other levels, mixes historical documents and replicas of artifacts — including playing cards, hardtack and other items soldiers routinely carried during the war — to help with the lessons, which teachers can tailor for their classrooms.
The museum sends an educator into classrooms at the beginning of the week to introduce the Civil War, highlighting a lesson plan ("Timeline," "On the March" or "A Day in the Life"). Teachers keep the trunks in their classroom to use for the rest of the week.
"The Civil War is such a seminal moment in our nation's history, but it is hard for many students today to relate to the conflict," said Ruth Lonvick, the Southern Museum's early childhood educator. "Our traveling trunk program views the Civil War from a new perspective. This program focuses on often-overlooked stories, including those of women and African-Americans, to tell the story of the Civil War in a new and fascinating way."
The federal Title I program provides funding to school districts to help guarantee all children, especially academically at-risk students, meet state academic standards. In the Cobb County School District, 46 schools receive Title I services.
"Trains, Tapas & Tastings" is set for 6 p.m. on Friday, Nov. 8, at the Southern Museum in downtown Kennesaw. Tickets are $125 per person. Each $100 donation sponsors the trunk for a classroom. Schools normally pay a nominal fee to bring the trunks to their schools.
During the Nov. 8 gala, restaurants from Kennesaw and Cobb County will supply small plates and desserts for attendees during a cocktail reception that also will feature a selection of beer, wine and spirits.
Ollie Patterson Music is providing entertainment for the evening, and attendees can participate in a live auction and a prize pull. The dress code for "Trains, Tapas & Tastings" is event formal.
Atlanta Bonded Warehouse is the title sponsor of this year's celebration. All donations are tax-deductible.