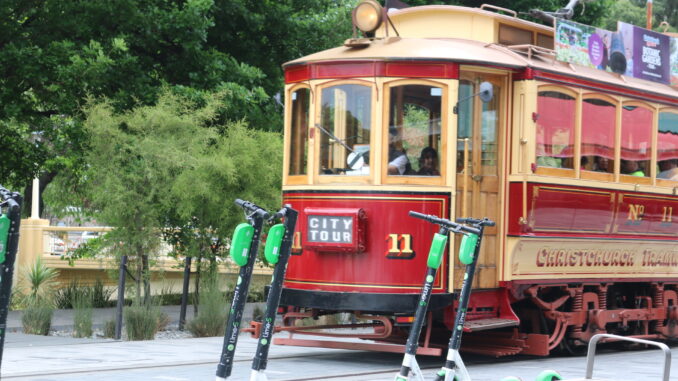 CHRISTCHURCH, New Zealand — Communities across New Zealand are grappling with how to handle the proliferation of e-scooters.
More than 2,000 people have been injured in e-scooter mishaps in Auckland alone, the New Zealand Herald reported. Even with the controversy surrounding scooters, Auckland officials have agreed to continue licensing them, according to reports.
"While we have little influence right now on the rules for where e-scooters can be ridden, how fast they can go and whether or not people need to wear helmets, we have done as much as we can to promote public safety," Auckland Council director of regulatory services Craig Hobbs told the Herald.
"This is why we have agreed to license on a six-month basis moving forward," Hobbs added. "Part of the council's approach is about acknowledging that regulating the safety and use of e-scooters on our streets ultimately sits with central government. We are looking forward to an update from respective government agencies about e-scooter safety."
Meanwhile, research published in the New Zealand Medical Journal found dozens were admitted into Auckland hospitals for injuries sustained on scooters, Newshub reported. They want more regulation.
"While the majority of injuries were minor trauma, these cases have placed additional demand on health system resources across Auckland," Newshub quoted the study's authors as writing. "A significant group of patients had serious injuries including some severe brain injuries."
Perhaps unsurprisingly, alcohol seems to be one contributing factor in many of the scooter mishaps.
"There does need to be some kind of enforcing because what we're seeing is patients who are intoxicated are more likely to get injured," Radio New Zealand quoted Dr. Anna Brownson as saying.
In the Otago region, a writer has launched a petition aimed at removing scooters from public sidewalks.
"'The purpose of this petition is to make sure Parliament gets a handle on controlling this nonsense," the Otago Daily Times quoted writer Lynley Hood as saying.
In October 2018, Lime received permission to deploy its scooters in Christchurch. In June 2019, a 37-year-old man was charged with stealing 50 of the scooters worth $37,500 NZD, the Herald reported at the time.