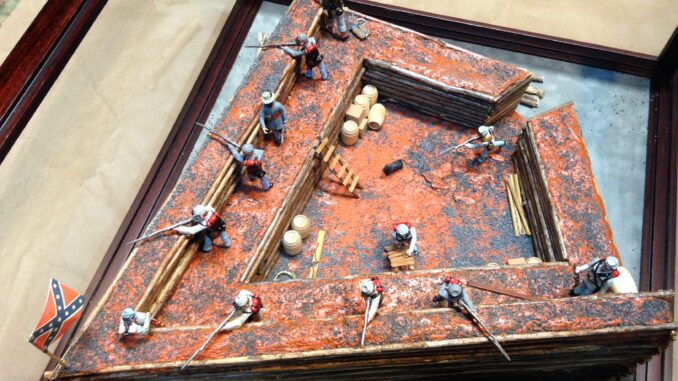 The family of Smyrna resident and local historian Leon McElveen has donated a prized model of a Civil War Shoupade fort to the Smyrna History Museum.
Created by noted historian and author Bill Scaife, the model was gifted to McElveen a few years ago. It is the only known exact replica model of this significant and unique fortification.
When McElveen unexpectedly passed away, his family decided this important piece of history should stay in Smyrna, and Smyrna Historical Society Collections Chair Mike Terry facilitated the donation.
"Leon was a true Smyrna historian and a Civil War expert," Terry said. "His knowledge of the local community is unsurpassed, and he often lectured at local schools and organizations. We are indebted to Leon's widow for this gracious donation."
During the Civil War, Confederate Brig. General Francis A. Shoup developed the Shoupade as part of the River Line series of fortifications. The earthwork battlements were noted for their arrowhead shape.
Confederate forces built three dozen Shoupades in 1864. Nine of the earthworks remain.
"This model is a significant contribution to the museum's collection," said Jennie Eldredge, manager of the Smyrna History Museum. "The Civil War is an important part of Smyrna's story, and this model will serve as a centerpiece of our exhibit on the war and its impact on the local community."
For more information, visit smyrnahistoricalsociety.org.