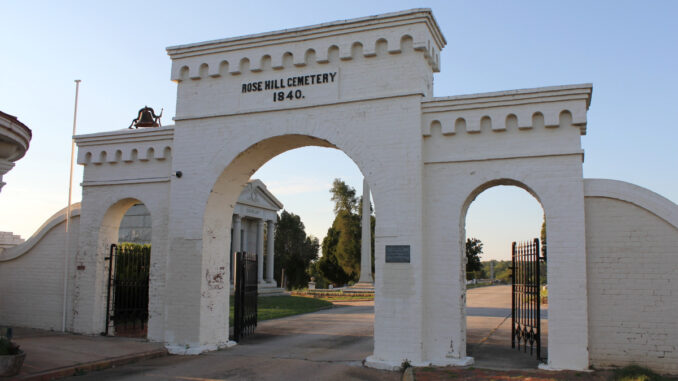 MACON, Ga. — Gregg Allman, a founding member of the Allman Brothers Band, will be buried in the historic Rose Hill Cemetery in hs hometown of Macon, Ga., according to a report in The (Macon) Telegraph.
Allman died Saturday, May 27, at his home in Savannah. He was 69.
The legendary musician is not the first member of the band to be buried in Rose Hill. His brother, Duane, who died in a motorcycle crash in 1971, is also buried in the cemetery as is Berry Oakley, the band's bass player who died in 1972 following a motorcycle wreck.
The cemetery opened in 1840 and was listed on the National Register of Historic Places in 1973. Here is a look at a few of the cemetery's famous burials, according to FindAGrave.com and other sources.
Peter J. Bracken
Born in Philadephia in 1833, Pete Bracken moved to Macon as a young man. He gained prominence as the engineer of the Texas locomotive during the famous Great Locomotive Chase of 1862. He died on May 26, 1909, in Macon and was buried in an unmarked grave; a marker was added in 1971.
James Jackson
Born in 1819, James Jackson served as a congressman from Georgia before the Civil War and a judge advocate on the staff of Gen. Stonewall Jackson during the Civil War. Jackson later served as the chief justice of the state Supreme Court before his death on Jan. 13, 1887.
Nathaniel Edwin Harris
Born in 1846 in Tennessee, Nathaniel Edwin Harris moved to Georgia to escape Union troops during the Civil War and joined the Confederate States Army infantry at the age of 16. He moved to Macon in 1873 and formed a law practice and later served as the 61st governor of Georgia from 1915 until 1917
Joseph Neel Reid
Born in Alabama in 1885, Neel Reid was a prominent Atlanta architect whose long list of credits includes the Amtrak Station in Atlanta in the Brookwood section of the city. He died of brain cancer in 1926 at the age of 40.
Edward Dorr Tracy Jr.
Born in Macon in 1833, Tracy worked as a lawyer before the Civil War and was commissioned as a brigadier general in the Confederate States Army in 1862. He was killed at the Battle of Port Gibson in Mississippi on May 1, 1863.