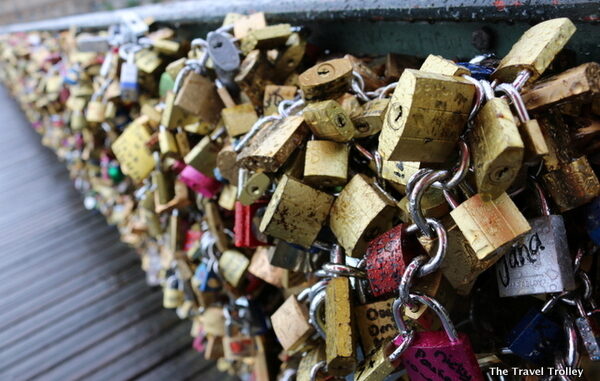 Don't share this news with whomever said love will last a lifetime.
Paris officials are removing an estimated 1 million locks weighing 45 tons of locks from the Pont des Arts bridge in Paris, better known as the "Love Lock" bridge, TIME and other media outlets reported. Officials will also remove locks from Pont de l'Archeveche near the historic Notre Dame cathedral, UPI reported.
Lovers, according to tradition, attach locks to the fencing then throw the key into the River Seine below, a sign their true love will never fade. Last year, a section of fencing on Paris' famous Pont des Arts collapsed under the weight of thousands of locks.
"This phenomenon generates two problems: a lasting degradation of the heritage of Paris and also a risk to the safety of visitors, Parisians and tourists," USA Today quoted Paris city hall as saying in a statement.
The locks, according to The Associated Press, are removed by the city from time to time, but are quickly restored by lovebirds. The Guardian newspaper previously reported city officials were concerned about the weight of the locks, but hesitated to take action because of the bridge's popularity among tourists.
Last August, the city launched a new website to push its Love Without Locks (#lovewithoutlocks) initiative. "An end to padlocks: through this site, declare your love in pictures and bridges will be spared a heavy heart," the website reads.
"We want Paris to remain the capital of love and romance," the BBC quoted Bruno Julliard, Paris' deputy mayor, as saying.