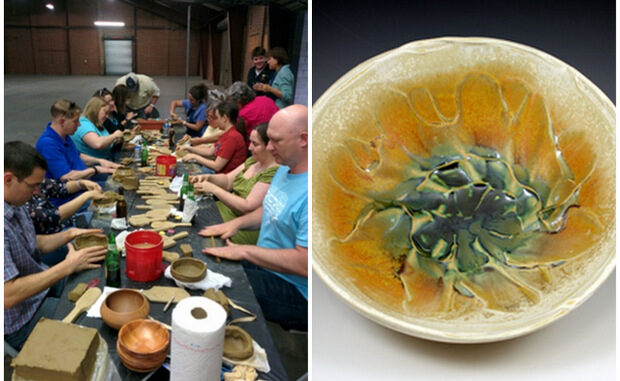 Macon Arts Alliance's Fired Works regional ceramics exhibition and sale is reveling in its 10th year with an expanded opening weekend schedule of events celebrating the natural elements of earth, wine and fire.
The weekend begins the evening before the show on April 10 with a preview party showcasing original works by 65 regional potters in the newly restored historic Round Building at Macon's Central City Park. The location, 90 miles south of Atlanta, is an historic park on the Ocmulgee Heritage Trail, featuring the second-oldest municipal baseball stadium in the country and a rare antebellum bandstand.
The Park is part of the Ocmulgee Old Fields, a large area where ancient cultures lived and worshiped more than 15,000 years ago. One of the continent's richest sites for early Native American artifacts is the area around the Ocmulgee National Monument, where the oldest piece of stamped pottery ever found in North America was discovered.
Guests to the preview party will enjoy live music, wood-fired pizzas and wine tastings, the opportunity to mix and mingle with the potters, and getting first crack at shopping the exhibition's array of functional and sculptural ceramics before the public even gets a chance to view it. The party can be enjoyed as part of a special weekend package or by purchasing individual tickets for $40 in advance at www.FiredWorksMacon.com, $50 at the door.
On Saturday, April 11, the show's first day, getaway package holders can indulge in a mimosa and a pastry before getting their hands muddy at the exclusive Sip & Spin Pottery Workshop. Under the guidance of a professional potter, guests can create their own pottery souvenirs, handcrafted or thrown from genuine, local Lizella clay.
Original works of art will be kiln-fired and shipped directly to guests' homes.
After washing their hands, getaway guests are invited across the river to the sacred grounds of Ocmulgee National Monument to commune with nature while being treated to an elegant farm-to-table feast with wine pairings prepared by an award-winning chef and served al fresco.
That evening, guests can put on their dancing shoes for a Saturday night on the town with the Macon Pops Jazz Orchestra, performing at a lively interactive concert and dance party featuring the music of Frank Sinatra with world-class musicians in a historic downtown venue. Cocktails will be available for purchase at the concert. This lively event is open to the public, but tickets will sell out fast at www.MaconPops.com.
Beginning at 2 p.m. on Sunday, April 2, giving guests plenty of time to recover from Saturday's night out, the Pottery Road Show at Fired Works will feature three appraisers on-site to estimate the value of treasures unearthed from home and share the history of ceramic pieces near and dear to their owners' hearts. While included as part of the special opening weekend getaway package, the Pottery Road Show is open to everyone; cost is $5 per piece to be appraised.
The Earth, Wine and Fire weekend package is $275 per couple (a $325 value). It is available at www.FiredWorksMacon.com, as are tickets for all individual events. A special $99 weekend rate is offered with advance bookings at Macon's Hilton Garden Inn, the conveniently located and well-appointed official hotel partner of Fired Works.
While adults peruse the daily show and sale, children can play at two free clay workshops just for them, thanks to the generous support of Macon's Elam Alexander Trust and the Lizella Clay Company. April 11 and 18 from 10 a.m. to 11 a.m., professional ceramics artists will work with kids ages 5 to 12 teaching them simple pottery techniques to create one-of-a-kind works of art to take home.
A second free workshop will be available at 1 p.m. for teenagers ages 13 to 18. Class sizes are limited to 20 students, and pre-registration is required at the Fired Works website.
Adults 21 and over can get their hands dirty with friends or a date at this year's Corks and Clay workshop April 15, or the Pints and Pottery workshop April 17, where participants will create their own beer mug for, what else, their favorite handcrafted beer. Tickets to adult workshops are $30 and include drinks, materials, and a finished work of art. Space is limited, so early registration is encouraged and available online.
The Fired Works daily show and sale takes place at Central City Park, April 11-19. Tickets are $5 per person, and allow for unlimited return visits. Hours are as follows:
April 11: 9 a.m.-5 p.m.

April 12: Noon-4 p.m.

April 13-17

:

11 a.m.-6 p.m.

April 18: 9 a.m.-5 p.m.

April 19: Noon-4 p.m.