KISSIMMEE, Fla. — When many, if not most, people look to book a Central Florida vacation, they pretty much have one destination on their minds: one of the region's world-famous theme park.
But, long before Mickey Mouse decided to build a summer home in Florida — no doubt to reduce his income tax burden by claiming the sunshine state as his primary residence — there was the Monument of States.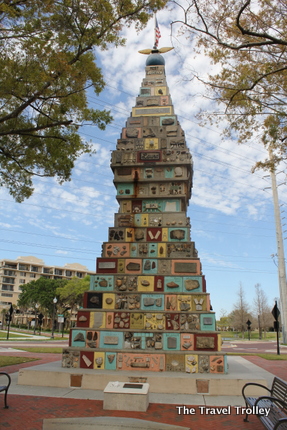 The 40-foot-tall "Monument of States" was the brainchild of Dr. Charles Bressler-Pettis, a physician who at the time headed the Kissimmee-All-States Tourist Club. U.S. Sen. Claude Pepper was on hand to help dedicate the monument in March 1943.
Following the attack on Pearl Harbor, Bressler-Pettis wrote to governors and asked them to send stones for a monument that was to serve "as a symbol of unity in the dark days of WWII," according to a 2008 report from WFTV. They obliged.
The monument, topped by a 562-pound bald eagle made of concrete, was built from stones from all 48 states at the time of its completion. Stones that Bressler-Petti and his wife collected from other places were also added to the mix.
The structure, located at the corner of Monument Avenue and Johnston Street, contains 1,500 rocks from all 50 states and 22 countries. A number of parties, including tourists, governors, a prime minister and President Franklin D. Roosevelt, also donated stones to the cause.
While it can't be confirmed, a human skull is also alleged to be included in the mix. Interestingly, according to an Orlando Sentinel article, some of Bressler-Petti's ashes are buried in the monument.