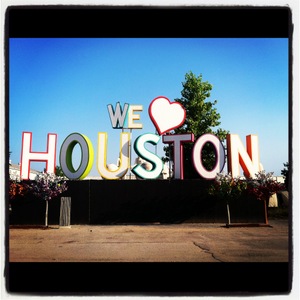 HOUSTON — It was dinnertime when we landed at Hobby Airport.
So, my wife and I made a beeline for the hotel, dropped off our bags and headed to a Houston institution. The Rainbow Lodge is one of the city's oldest eateries, and its menu falls a bit on the wild side.
From antelope to buffalo to venison, this dining establishment puts a unique twist on a steak dinner. This rustic fine dining experience is truly one of a kind — the restaurant's log walls are adorned by dozens of animal heads.
But don't let the fare concern you; the chef's take on wild game makes one wonder why antelope doesn't grace the menus at more restaurants.
The next morning we awoke and headed for arguably the city's best-known attraction: NASA's Lyndon B. Johnson Space Center. But not before a quick stop by the Seabrook Café in the town of Seabrook, located along Galveston Bay.
At Johnson Space Center, there are no launch pads, but the center is home to the space agency's mission control and astronaut training facilities. It was here that people on the ground oversaw space missions, including the Gemini, Apollo and Space Shuttle programs.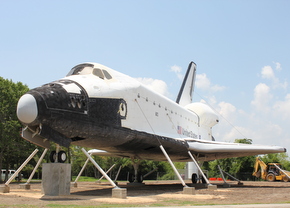 While the space center has a bit of a tourist trap feel to it, it's not a bad destination for anyone interested in history or space travel. While here, be sure to check out the Saturn V rocket on display in Rocket Park. These massive rockets propelled Apollo astronauts from Cape Canaveral, Fla., into space on their way to the moon.
Recently, NASA also relocated Space Shuttle Explorer, a shuttle replica, to the space center.
After leaving the space center, we opted to keep our wild theme alive. So, we swung by Sammy's Wild Game Café for a true epicurean experience. The menu in this relaxed, fast casual eatery features dishes one might expect to find at a neighborhood grill, from hot dogs to sliders to chili. The catch is: Everything is prepared with wild game.
It seems the menu, from top to bottom, is a winner. But, for anyone who might have trouble choosing, just try the sliders – a collection of three burgers made from meats selected by the chef (antelope, elk and kangaroo were the meats du jour on this particular visit).
For a true culinary experience, try the python chili, a seasonal menu item.
Following lunch, we set our course for one of the many museums in Houston. The city has established itself as a vibrant destination for modern art. From the Art Car Museum to the Menil Collection, the city is home to world-class galleries.
The Menil Collection features more than 15,000 antiquities and works from famous artists ranging from Pablo Picasso to Max Ernst to Andy Warhol.
If art isn't your speed, the city's Museum District features 19 museums within a 1.5-mile radius from a health museum to a holocaust museum to a children's museum.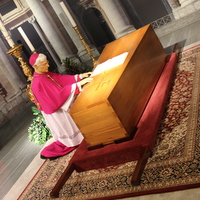 Outside of the district, on the north side of town, be sure to visit the National Museum of Funeral History, dedicated to educating how different cultures honor the dead. Younger kids may want to check out the Houston Police Museum located in the lobby of the Houston Police Department's headquarters downtown.
After gallivanting around Houston for a bit, which also included a quick visit to the 64-foot-tall waterfall at Gerald D. Hines Waterfall Park, we headed to Luling City Market for dinner. This restaurant, was named one of the 101 best restaurants in the country by The Daily Meal.
What the restaurant may lack in upscale elegance, it certainly makes up for in its beef brisket.
It's important to understand that Houston is a massive city. As such, it's easy to be overwhelmed by the sheer size.
With any big city, it's important to plot out a plan of attack before touching down. We set our base in the city's Galleria part of town, an upscale shopping district with space age signs to mark streets.
We began our day Sunday with a visit to Hermann Park, a 445-acre park that is home to a Japanese garden, a reflecting pool and a statue of Sam Houston.
Afterward, we continued our quest for one-of-a-kind points of interests, including Mount Rush Hour and the Beer Can House.
From the late 1960s until he died in the 1980s, John Milkovisch covered his house on Malone Street with crushed been cans. The house — today affectionately know as the Beer Can House — opened in 2008 as a folk art museum. For a small fee, visitors can tour the house and learn more about more about Milkovisch's passion.
"They say every man should leave something to be remembered by. At least I accomplished that goal," one Milkovisch quote painted on an interior wall reads.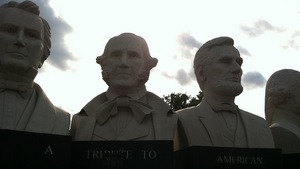 Certainly, no trip to Houston would be complete without a visit to Mount Rush Hour.
Sculptor David Adickes placed giant busts of George Washington, Abraham Lincoln, Sam Houston, and Stephen Austin along Interstate 10. If nothing else, the sculptures – adorned with "A Tribute to American Statesmanship" across their base — provide commuters a distraction during their rush hour drives.
Good Eats
Rainbow Lodge
Seabrook Café
Sammy Wild Game Café
Luling City Market
El Real Tex-Mex
Must See Sights
NASA's Lyndon B. Johnson Space Center
Gerald D. Hines Waterfall Park (also know as the Williams Waterfall)
National Museum of Funeral History
Beer Can House