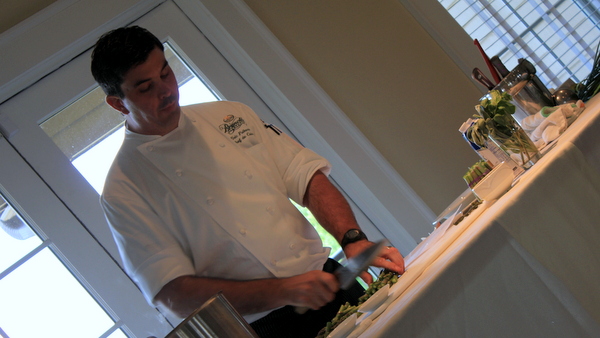 GREENSBORO, Ga. — Even though Chef Eric Fulkerson might be quick to admit he isn't a doctor, he understands the need for eating healthy.
A year ago, he weighed more than 300 pounds. Through better, healthier eating, he's lost significant weight.
Now, he's bringing his lessons on how to eat well to his diners at Reynolds Plantation, even if that means pulling a fast one over on them.
"Healthy is not bad; healthy is needed — especially in the age group we have," said Fulkerson, a chef at Reynolds Plantation, a luxurious development on Lake Oconee, roughly 80 miles east of Atlanta. "We want to make sure we have options so they can eat in our restaurants."
Since December 2008, Fulkerson has served at the chef de cuisine at Reynolds' Plantation Grille. Cooking at a golf club means customizing menus to a diverse base of members while not sacrificing on quality.
But, whenever possible, Fulkerson wants to make sure one lesson isn't lost.
During a recent cooking demonstration, Fulkerson put together a three-course meal consisting of asparagus soup, mint lamb burgers and flour-less raspberry tart. While the ingredients for the meal included all the spices, seasonings and flavors one might expect to find, there was one food item missing: gluten.
No wheat flour, no problem. The burgers had no buns, the soup didn't need any and the raspberry tart called for almond flour instead. Eighty percent of the recipes at Reynolds Plantation's restaurants are gluten free.
Members don't seem to mind. Maybe, it's because they don't know.
"We're definitely trying to find healthy food that tastes good and that isn't something that you would think is healthy," Fulkerson said. "So, it doesn't have that, 'oh, it's healthy, that doesn't taste good.' So, we want to show that it's light, seasonal and tasty.
"A lot of times, we're just sneaking it in," he added. "We do specials and there is no starch in the special. There's a potato puree or a vegetable puree, and there's a roasted vegetable with it. And, they don't really realize they're missing the starch. So, we try to sneak it in as opposed to labeling it outright"
Chef Eric's Asparagus Soup (reprinted with permission):
2 pounds fresh asparagus
1 sweet onion, chopped
3 gloves garlic, minced
1 quart chicken stock (organic in this case)
1 tablespoon, olive oil
Salt and pepper to taste
2 leaves of fried sage
1 cup of chopped prosciutto or pancetta, sautéed
Ground black pepper
Directions
In a large sauce pot on medium heat, sauté the onion and garlic in olive oil, adding salt and pepper to taste (sauté the onion until it is translucent)
Add the asparagus to the pot and cover with chicken stock
Cover the pot and simmer the asparagus until it is soft and tender
Meanwhile, sauté the prosciutto and set aside
Put the soup in a food processor or blender and blend until smooth
Pour the soup into bowls, sprinkle with black pepper and garnish with the prosciutto and sage