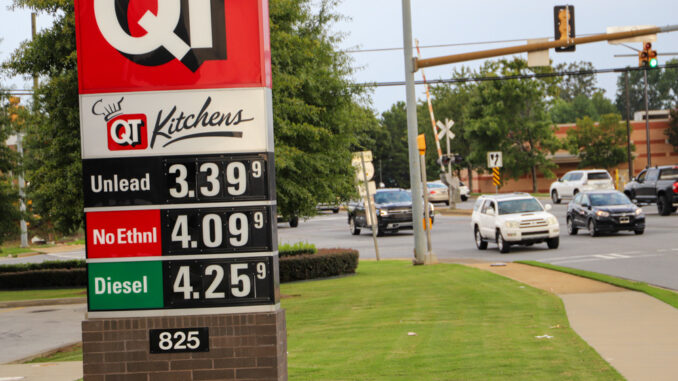 (The Center Square) — Channeling his inner Barack Obama, who famously said he had a pen and phone and wasn't afraid to issue executive orders, Georgia Gov. Brian Kemp suspended the state's motor fuel tax this week.
On Tuesday, Kemp, a Republican, declared a state of emergency and suspended the state's excise tax on motor and locomotive fuel. The suspension, which the governor says is necessary because of high inflation, kicked in on Wednesday and remains in effect until Oct. 12.
Kemp is emboldened to take such a step because of the state's rosy financial picture. Aided by an influx of federal "relief" dollars, experts say the state has a roughly $5 billion "surplus."
"When you're running this kind of surplus, then you can offset some of this pain at the pump by suspending the tax because you've got other revenues coming in," Kyle Wingfield, president and CEO of the Georgia Public Policy Foundation, told The Center Square. "It's such a historically abnormal time, and it won't last forever. So, there will come a time when you're not able to do this, and that's the only way it works right now."
In the executive order, Kemp cited a Georgia statute giving the governor the authority to suspend the collection of state motor fuel taxes during a declared state of emergency, "subject to ratification by the General Assembly at its next meeting."
"No members of the General Assembly have indicated any opposition to once again ratify the suspension once they return to session, so I won't speculate on a hypothetical," Garrison Douglas, Kemp's press secretary, told The Center Square in an email when asked what happens if lawmakers don't ratify the order.
Last year, Kemp signed House Bill 304 to suspend gas tax collections, a prohibition he extended to run through Jan. 10. The suspension cost the state roughly $1.7 billion.
The Democratic Party of Georgia, which is often critical of Kemp, did not respond to a request to comment.
"At a cost of over $160 million per month, suspending the gas tax remains a relatively costly way to deliver modest, short-term economic relief to Georgians," Georgia Budget and Policy Institute Senior Fiscal Analyst Danny Kanso said in a statement to The Center Square. "While it is important for Georgia to responsibly deploy the state's available resources as revenue collections continue to significantly outpace estimates, Georgia leaders must also consider ways to deploy the billions in undesignated public funds to address major needs facing our state's communities.
"With the approval of two-thirds of the General Assembly required to ratify the Governor's order, lawmakers should reconsider how to best use the full scope of resources available to the state and pursue meaningful improvements such as upgrading our state's aging school bus fleet," Kanso added.
While the state's current financial windfall might tempt some lawmakers to want to increase spending, Wingfield cautioned against overspending in the long term.
"If you say, we have more money now, let's spend more money forever, that doesn't add up very well," Wingfield said. "Temporary bumps in revenue should be used for temporary purposes rather than permanent ones. That's why we continue to say that it would not be wise to expand … or create a new program based on the current revenue picture because it still seems most likely that the current revenue picture is not going to last forever."
This article was published by The Center Square and is republished here with permission. Click here to view the original.