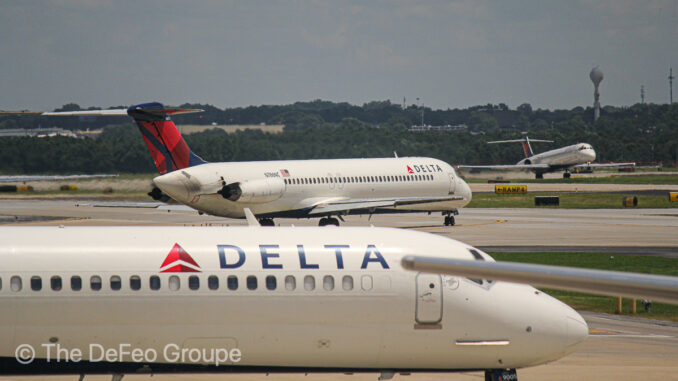 Delta Air Lines Inc has recently introduced substantial revisions to its SkyMiles loyalty program. Under the new policy, elite status will be based on the amount of money spent rather than miles flown. This shift, while altering the landscape of elite benefits, has triggered discontent among numerous frequent flyers. Many have expressed their frustration and disappointment on social media platforms, including "X," where influencers are openly sharing their dissatisfaction and contemplating a potential switch to other airlines, reveals the Social Media Analytics Platform of GlobalData, a leading data and analytics company.
Smitarani Tripathy, Social Media Analyst at GlobalData, comments: "Numerous influencers active on "X" have voiced their discontent regarding the alterations made to Delta Air Lines' SkyMiles program. This has prompted many customers to contemplate severing their loyalty ties with the airline and exploring alternative options. The prevailing sentiment among these influencers leans overwhelmingly toward negativity, reflecting customers' perceptions that the Delta Medallion modifications fail to adequately acknowledge their loyalty."
Below are a few popular influencer opinions captured by GlobalData's Social Media Analytics Platform:
Jake Williams, Faculty at IANS:
"Changes to the @Delta SkyMiles program is a shameless cash grab in an attempt to get people to book rental cars, hotels, and vacation packages through Delta. That's it. Period."
Sherrell Dorsey, TED Tech Host:
"The biggest L of these @Delta skymiles changes and new policies is that there are very few high-quality airlines that deliver as well as the Delta experience. So you can't even truly switch in protest."
Steve Matthews, Reporter for Bloomberg Economics:
"Lots of @Delta customers who have been loyal because of the elite program are going to be moving to other airlines when their schedules are more convenient."
Michael J. Miraflor, Chief Brand Officer at Hannah Grey VC:
"I'm about 100K miles away from Million Miler Status on Delta, but I might not get there… starting next year I'm going to break my decade+ long diehard loyalty to the airline bc of changes to earning Medallion status."
Christina Warren, Sr Dev Advocate at GitHub:
"The Delta Medallion changes are absolutely abysmal. I can't realistically change airlines but I can change who I fly internationally and man, these changes make a great case for OneWorld or something."
Kelly Vaughn, Director of Engineering at Spot AI:
"Delta completely gutting the SkyMiles Medallion program as someone who lives in Atlanta is… extremely disappointing. Tough to stay loyal to my local airline when that loyalty is not returned."
About GlobalData Social Media Analytics Platform
GlobalData's Social Media Analytics Platform allows businesses to understand brand sentiments, product led conversations, buzzing trends among "X" influencers and Redditors tracked by GlobalData, using a combination of AI and human based analysis that curate content and displays only what matters to you. It helps monitor competitor strategies, predict emerging trends, monetize disruptive innovation, decode smart money, mine thought leadership, and capture digital consumers.
About GlobalData
4,000 of the world's largest companies, including over 70% of FTSE 100 and 60% of Fortune 100 companies, make timelier and better business decisions thanks to GlobalData's unique data, expert analysis and innovative solutions, all in one platform. GlobalData's mission is to help our clients decode the future to be more successful and innovative across a range of industries, including the healthcare, consumer, retail, financial, technology and professional services sectors.