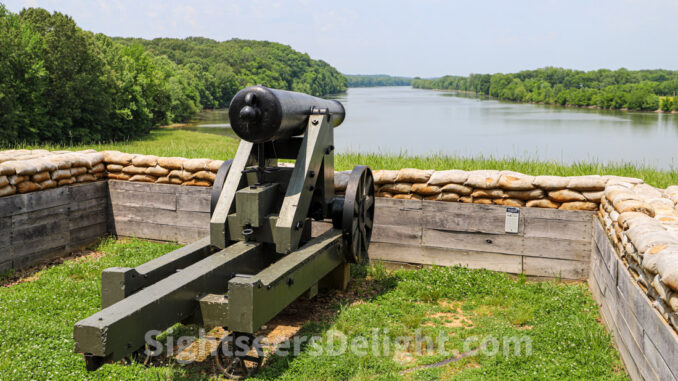 DOVER, Tennessee — Fort Donelson National Battlefield commemorates the February 1862 Civil War battle between U.S. forces led by General Ulysses S. Grant and Confederate forces under Simon B. Buckner.
Fearing a Union attack, Confederate troops bolstered defenses at Fort Donelson in Dover, Tennessee, and Fort Henry, located on the Kentucky-Tennessee line west of Dover.
The artillery positions along the Cumberland River bluff included the construction of works on the earthen bluff and the installation of heavy ordinance. In addition, inexperienced volunteer soldiers spent hours training and drilling for a certain Union attack.
The 50th Tennessee Infantry was organized as a regiment at Fort Donelson on Christmas Day in 1861. The unit included members from Montgomery, Dickson, Cheatham, Stewart, Humphreys, and Davidson counties and formed part of the Confederate garrison until February 1862.
Despite the Confederate's measures to build defenses in the region, Union troops advanced, and forts Donelson, Henry and Defiance soon fell to Union troops.
The Union attack began on Feb. 14, 1862, when ironclads commanded by Flag Officer Andrew H. Foote arrived from nearby Fort Henry, which union forces captured earlier in the month, but soon retreated.
Confederate forces surrendered the fort on Feb. 16. In response to a Confederate inquiry into terms of surrender, Gen. Ulysses S. Grant said: "No terms except an unconditional and immediate surrender can be accepted."
Buckner and Grant met in the Dover Hotel, built between 1851 and 1853, to work out the details after Buckner accepted Grant's surrender terms.
The hotel accommodated riverboat travelers before and after the Civil War. During the battle, Buckner and his staff used the hotel as their headquarters; the building was a Union hospital after the surrender.
"Fort Donelson will hereafter be marked in Capitals on the maps of our United Country," Grant wrote after the surrender of Confederate Fort Donelson on Sunday, February 16, 1862.
Shortly after the surrender, Clarksville and Nashville fell into Union hands. The National Park Service preserves and protects the battlefield, surrender site, and national cemetery.