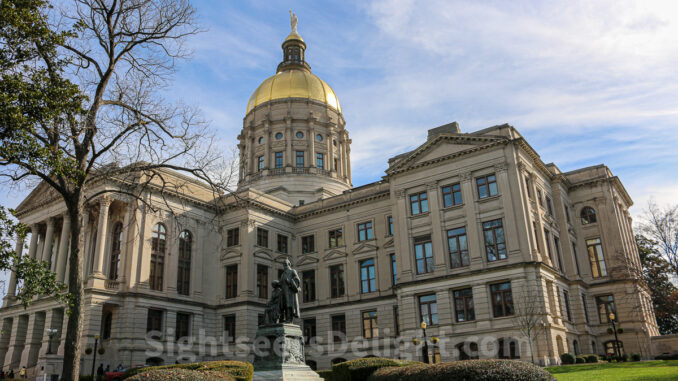 (The Center Square) – Georgia lawmakers passed legislation that will gradually drop the state income tax rate over the next few years, a move that proponents say will make the state more competitive.
The state House voted 167-2, and the state Senate voted 41-13 in favor of an amended House Bill 1437. The bill sets the state's tax level at 4.99% by 2029, starting with a 5.49% flat tax for the tax year beginning Jan. 1, 2024.
The measure, which received broad bipartisan support in both chambers of the Legislature, now heads to Gov. Brian Kemp, a Republican, for his signature. Kemp is expected to sign the bill into law.
According to the Georgia Public Policy Foundation, nearly a dozen states cut their income tax during the past year. Additionally, two neighboring states — Florida and Tennessee — do not have a state income tax.
"Following their actions in 2018, lawmakers have taken another key step toward ensuring our state government does not overly burden Georgians through a tax on work, savings and investment," GPPF President and CEO Kyle Wingfield said in a statement. "Other states around the country and especially in our Southeastern region are taking action to make themselves more competitive, and this strong, responsible plan will help ensure Georgia not only doesn't fall behind, but remains a leader."
GPPF said its analysis of the original bill found a flat tax could return nearly $2.4 billion to Georgia taxpayers. However, the group said the number could be higher in the version lawmakers approved.
Georgia's top tax rate is currently 5.75%. Moving to a flat tax could reduce government revenues by roughly $1.3 billion, though the Georgia Budget & Policy Institute said the number was likely closer to $2 billion.
"Yet again, lawmakers are skewing the tax code so that the wealthy get massive tax cuts and would not have to pay their fair share, but only paying lip service to support for low- and middle-income families," GBPI said in a blog post.
This article was published by The Center Square and is republished here with permission. Click here to view the original.