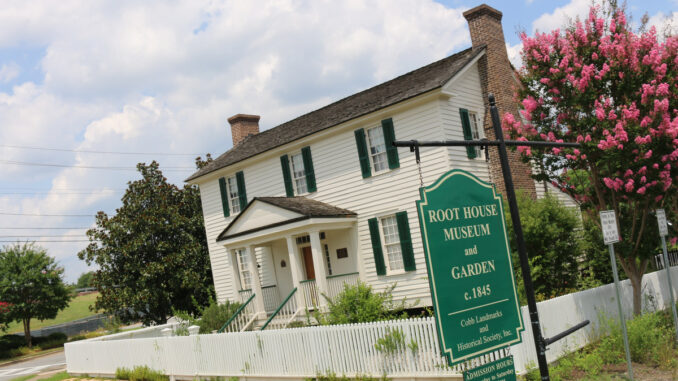 MARIETTA, Ga. — One of the best ways to explore the greater Atlanta area is to leave the city proper and head to one of its many suburbs.
The city of Marietta, located 25 or so miles north of Atlanta, is as good of a place as any to start. The bucolic community is home to several historic houses and museums, including the William Root House, the Marietta Fire Museum and the Marietta Museum of History.
Here is what Courtney Spiess, marketing and public relations coordinator for the Marietta Visitors Bureau, had to say about the Gem City.
What attracts most visitors to Marietta? For example, is it the museums, historic sites, parks, etc.?
Many people visit Marietta due to its rich history. Museums are a draw but the main attraction would be the Historic Square. Kennesaw Mountain National Battlefield and Park attracts many visitors throughout the year. After spending a day hiking, visitors come to the Historic Square for a meal and some shopping. Our proximity to Atlanta and the highway makes us a great city to stop in… many people drive by the Big Chicken.
Are most people who visit Marietta visitors to Atlanta who take a day trip to Marietta?
A good majority are day-trippers. Again, our proximity to Atlanta and the highway makes Marietta a great stop. Many visitors come from all over depending if they are here for a sports tournament or for example, visiting the Gone with the Wind Museum.
What are most visitors to Marietta surprised to discover?
Visitors are surprised about the art. In the last year, Marietta has promoted public art. There are murals spread along the Mountain to River (M2R) Trail. Many visitors may expect Marietta to be dated but in fact, it is very modern but at the same time it has the historic appeal.
How has Marietta changed in recent years (say the last decade or two) for the average visitor?
There are more restaurants and shops for visitors to enjoy. Instead of spending a few hours in Marietta, they could spend a whole day or couple of days exploring Marietta. Marietta has recently become a foodie destination. The Historic Square plus the Marietta Square Market allows visitors to try every type of cuisine.
What can the visitor to Marietta expect in five, ten years from now? How will the city change as the population continues to grow?
Transportation in Marietta may change in five, ten years. The Mountain to River Trail (M2R) may be used more from getting to and from Marietta. Visitors will still be able to experience and learn about the history.