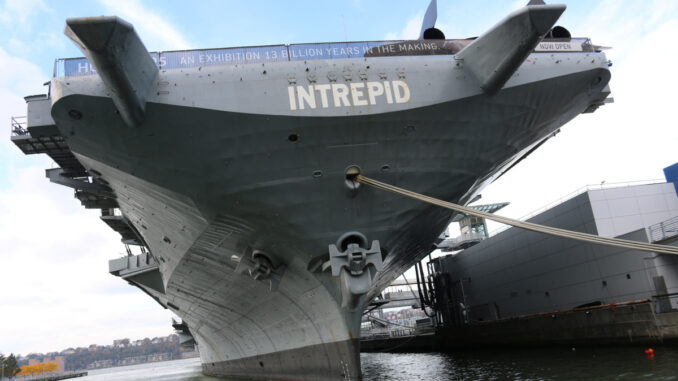 NEW YORK CITY — I was looking at some travel lists of what to see and do in New York City. Even though I am pretty familiar with the Big Apple, I am always looking for something new to see and do.
The lists I reviewed had the standard Big Apple attractions: the Statue of Liberty, Ellis Island and Central Park. That is hardly a shock, and there is nothing wrong with these attractions.
What surprised me is what was not on the list: the Intrepid Sea-Air-Space Museum.
This Intrepid is one of the great attractions in New York City. Anyone interested in history will appreciate interacting with some of the aircraft that helped shape this country.
If nothing else, the aircraft carrier offers some incredible — and different — views of the city skyline.
Located at Pier 86 in the Hell's Kitchen, the Intrepid was established as a museum in 1982. The real centerpiece of the museum isn't the planes; it's the carrier itself.
The USS Intrepid, lovingly nicknamed The Fighting "I," is an Essex-class aircraft carrier. The carrier was commissioned on Aug. 16, 1943, and decommissioned on March 15, 1974.
This vessel remarkably served in both World War II and The Vietnam War.
One of the more recent additions to the museum is Space Shuttle Enterprise. The shuttle rolled out on Sept. 17, 1976, and after it was launched from a modified Boeing 747, the Enterprise was used to perform atmospheric test flights; it has been on display at the Intrepid since July 2012.
The pictures in this gallery were taken in November 2015.