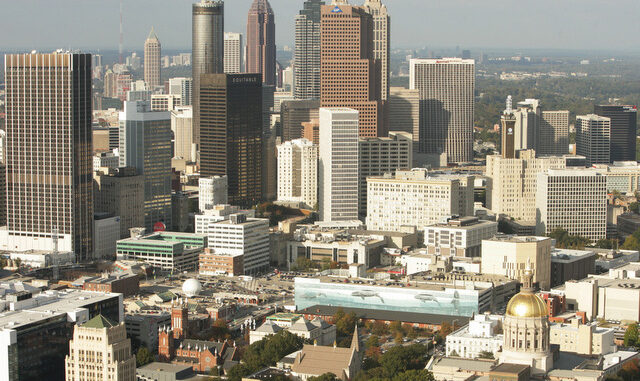 Summer is the anticipated travel season for all — couples, singles and families. It's no wonder that many head off to warm, sunny destinations such as Florida or South Carolina. While these are remarkable destinations, Atlanta is also a great city to explore during the summer.
Summertime in Atlanta, as the outdoor temperatures climb and the numerous outdoor activities revive for another season, is a rejuvenation of a true Southern summer. Whether your family is spending a day or two in the city, Atlanta and the surrounding metro neighborhoods are replete with family-friendly activities.
Six Flags Over Georgia & Hurricane Harbor
Six Flags Over Georgia
is an exuberant, colorful family park energized by thrill rides, lovable cartoon characters, and spirited live-entertainment shows and attractions. A popular destination during the spring and summer months for families and young adults, the Six Flags Over Georgia Park manifests a "kid at heart" excitement.
Experience the free-fall sensation on their exclusive thrill rides — Acrophobia, Batman: The Ride, Goliath, and Superman: Ultimate Flight – which are some of the biggest and tallest roller-coaster rides in the Southeast. Families with smaller children can enjoy smaller rides like the Dodge City Bumper Cars, Monster Mansion, Speedy Gonzales Speed Boats, or Tweety's Tree House (inside Bugs Bunny BoomTown).
To cool off, consider a visit to Six Flags' Hurricane Harbor. Located inside the Six Flags Over Georgia Park, the water park boasts a bonanza of fun water attractions suitable for all ages. Come climb into the cool waters of Calypso Bay, featuring a huge wave pool (Forgotten Sea) in a beach-style area with comfortable seating and umbrellas. Kids are welcomed to explore Paradise Island with stimulating and interactive playground-style water features like drenching towers, looping slides and water cannons. For the big kids, Tsunami Surge and Bonzai Pipelines are a welcomed treat for staying cool away from the parents or younger siblings.
Don't forget about the delish nosh offered inside the park. Six Flags has since expanded their menu offerings to include anything that tickles or tantalizes your taste buds. Replenish the family with delectable food such as mouthwatering burgers at Johnny Rockets; fragrant Chinese dishes and crisp veggies at Panda Express; and, chilling ice cream creations stacked in waffle cones at Cold Stone Creamery. Vendors throughout the park also have abundant selections of drinks, hot dogs, salads, sandwiches, and tacos for snacking on-the-go.
Six Flags Over Georgia opens in March, and Hurricane Harbor will reopen for the season in May. Hurricane Harbor admission is free and included with the purchase of a Six Flags Over Georgia general admission ticket.
Stone Mountain Park
Stone Mountain Park
defines "family-friendly activities" with a series of seasonal events all inside one park. Summertime is the best way to experience the park with plenty of boating and water activities, nature hikes and walking trails, and entertainment shows that make the most of the evening.
Welcoming the summer, Stone Mountain revives Geyser Towers and SkyHike. Geyser Towers is an impressive water and climbing course for kids, and SkyHike combines agility and tree tops for a heightened sense of adventure. Families can enjoy quality time with a climb up Stone Mountain to the summit for an awe-inspiring panoramic view of Georgia; learn about the geology and history of Stone Mountain; or, take a fishing trip out onto the lake followed up by a BBQ picnic with a fireworks show at dusk.
Lodge where the action is inside the park at Atlanta Evergreen Marriott, Stone Mountain Inn, or Stone Mountain Campgrounds. Summer at the Rock, Fantastic Fourth Celebration, and Labor Day Weekend make up the most celebrated events around the park.
No trip to Stone Mountain is complete without witnessing the Lasershow Spectacular. Happening April – October, the lasershow is a one-of-a-kind show with colorful lasers, pyrotechnics, and fireworks. Be sure to grab dinner before the big show at Big Rock Café, Base Camp BBQ or Waterside Restaurant. Of course, concessions and snacks on the park grounds are always available with delectable choices such as Dippin Dots ice cream, popcorn, pretzels and blended ice drinks.
Zoo Atlanta
Another gem to discover while visiting Atlanta is Zoo Atlanta. A fixture in the city, the zoo is a beholden treasure to Atlanta locals and animal lovers. Located in Grant Park, Zoo Atlanta is home to several animals, all represented by their region – African Plains, the African Rainforest and Asian Forest – with a small petting zoo, bird and reptile exhibits.
Adults and kids alike will enjoy seeing these animals up close in habitats that are reminiscent to the animals' origin and natural environment. Visit with the Pandas, explore the African Rainforest with a visit to the Gorilla habitat, or seek out a wild encounter or live animal training session.
Additionally, there are plenty of dining options to keep your own pack or pride satisfied throughout the day. Enjoy natural selections from The Wild Planet Café; grab a sweet treat or snack-on-the-go at Flamingo Joe's; or, enjoy a bite from one of the seasonal restaurants such as Willie B's, The Grill Shack, and Otterly Cool.
Don't forget to grab a couple of unique souvenirs from The Atlanta Trading Company. Boasting several unique and seasonal gifts – stuffed animals, toys, collectables – there are plenty of fun selections to reflect the fun day at Zoo Atlanta.
Centennial Olympic Park
Inside the city is the famous Centennial Olympic Park. The space made famous by the 1996 Summer Olympics in Atlanta is the most frequently visited and photographed landmark in Georgia. Locals and visitors alike visit the landmark during the summer with a host of entertainment for all.
The Fountain of Rings is an interactive geyser of fun and colorful light shows. With the fountain in operation year-round, visitors are welcomed to visit the site that so warmly brought international fame to the city. Kids and parents will delight with the streams of water dancing lightly set to memorable classics such as "Under the Sea," "Dancin in the Streets," and "I Want You Back."
Open seasonally, Googie Burger is the go-to place in Centennial Park for classic burgers. With their fresh take on never-frozen, organic burgers, locals flock to the summer restaurant to enjoy a savory bite of The Googie Classic. Googie is also the go-to spot for fried pickles, jumbo sweet onion rings, Russett cut, double fried fries, and thick, sweet shakes and floats.
Events happen throughout the year, but the fun truly kicks off around spring and summer with SweetWater 420 Fest, Shaky Knees, Brew on the Bricks, and the Fourth of July Celebration.
Atlanta may not be on the itinerary for beach fun, but the city is unique in its own flavor of fun and activities with concert events, annual food and craft fairs, and plenty of parks to keep visitors and locals occupied throughout the summer.