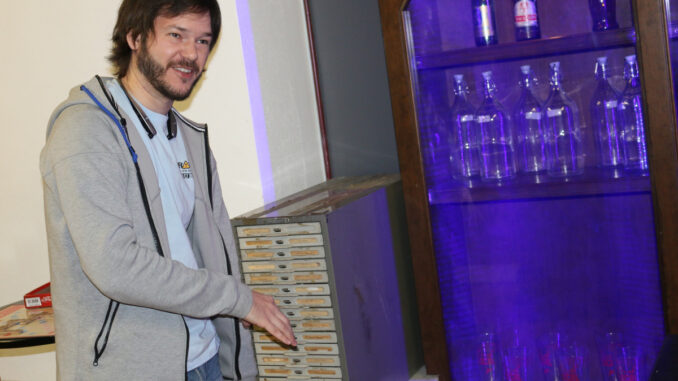 ATLANTA — Paranoia Quest: Escape the Room, an interactive escape the room adventure located in the heart of Atlanta, has unveiled its third quest. In the scenario, visitors enter a mysterious government facility in the hopes of uncovering a tightly-held secret.
As part of "Infection," guests assume the identity of private journalists illegally entering a National Oversight Agency (NOA) facility. According to the highly-detailed plotline, the NOA building houses the remains of a meteor that crashed in the New Mexico desert in 1997, leading to a biological outbreak that killed more than a dozen people.
As part of a quest, groups of two to 10 people are "locked" in a room filled with movie-quality props. A game master provides guests with a set of clues, and participants have an hour to work together to solve the mission, if they are to escape from the room.
"Our first two scenarios were immediately popular, and we're excited about this latest addition," said Dmitry Mikhaylov, owner of Paranoia Quest. "We put a lot of effort into developing the backstories for each quest to make them as realistic as possible, and that translates into a truly immersive experience unlike anything else in the city. We want people to get lost in the realism of this adventure from the moment they enter the room."
Paranoia Quest: Escape the Room has quickly become one of the area's hottest attractions since opening on May 29. More than 10,000 people have visited in the first six months, and the attraction is a popular destination for some of Atlanta's biggest companies' team-building outings.
Each quest is designed to challenge participants' thinking skills, not to frighten. Solving each scenario requires a mix of critical thinking, logic and raw wit.
"Infection" has been well-received by guests since debuting earlier this month, Mikhaylov said. Despite its popularity, just about 28 percent of people successfully solve the scenario.
In a second quest, titled "Zombie Apocalypse," guests are survivors of a zombie apocalypse who assemble as a special force team. In the third quest, titled "Murder Mystery," guests are invited to try new state-of-the-art technology in which they enter a murder victim's final memory.
For more information or to book a quest, visit paranoiaquest.com.