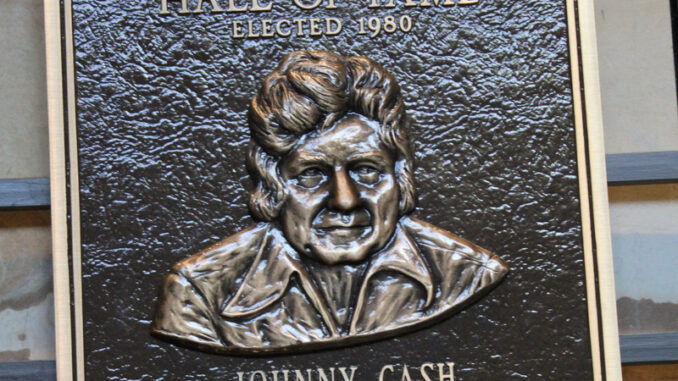 A nearly two-year-long exhibit focusing on a group of legendary musicians is set to open Friday at the Country Music Hall of Fame in Nashville, Tenn.
Dylan, Cash, and the Nashville Cats: A New Music City Presented by Citi explores how Dylan's decision to record in Music City forever changed the city.
The exhibit will use a number of photos and artifacts, such as the original manuscript for "Wanted Man," a Dylan-penned song that Cash made famous on his 1969 album Johnny Cash at San Quentin, and acetates from Dylan's 1966 Blonde on Blonde sessions.
"His decision to record here in the '60s was a catalyst for many others to look at what must have seemed like an unusual destination at such a polarized time," Time quoted the Hall of Fame's Michael Gray. "If Dylan is doing it … we should think about going there and checking out those musicians and studios too, in spite of its reputation as a conservative town."
Dylan recorded all or portions of Blonde on Blonde, John Wesley Harding, Nashville Skyline, and portions of Self Portrait in Nashville.
"Bob Dylan's decision to record in Nashville in 1966 provided a major catalyst for bringing many others to what must have seemed like a very unlikely destination in the politically polarized sixties," the museum said on its website. "In spite of its reputation as a conservative town, removed from the main trends in popular music, Nashville was home to musicians who had a huge influence on other music scenes of the era."
The 5,000-square-foot exhibit runs through Dec. 31, 2016. As a part of its 21-month-long run, the exhibit will also feature a number of public programs, live performances and guest lectures.
For more information, visit www.countrymusichalloffame.org.