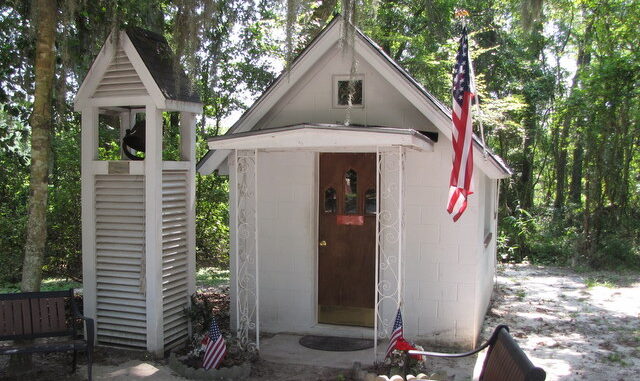 SOUTH NEWPORT, Ga. — Christ Chapel in Memorial Park is remarkable not for its size, but because of its small stature.
The roadside chapel – referred to as "The Smallest Church in America" – is set on a quiet patch of land along rural U.S. Highway 17, roughly an hour south of Savannah. Overshadowed by Spanish moss hanging from large oak trees rising from the region's sandy spoil, the church measures an unimposing 10 feet by 15 feet.
Admittedly, the cinder block building doesn't make much of an impression from the road. In fact, it looks more like a storage shed than a church. But, for 60 years, Christ's Chapel in Memorial Park has served the community well – even if only a dozen people at a time.
Its claim to the title of country's smallest church is a debatable one, but that doesn't detract from its unique charm. Still, the church's size might render it smaller than a confessional in one of Europe's famous grand cathedrals.
Thirty seconds here, and it's easy to see why the church's unofficial motto is "Where Folks Rub Elbows with God."
Agnes Morgan Harper, a local grocer, built the church in 1949 or 1950 and subsequently deeded the land to Jesus Christ. While many people might have grander expectations from a house of worship, Christ's Chapel in Memorial Park has everything one needs to hold a service – mainly a place for worshipers to sit and a pulpit for the minister.
Harper may have died in 1978, but her spirit lives on through Christ Church.
"It is not the dimensions of the church which are important," Harper once said, according to a 1998 Associated Press article. "It is the extent of the faith."
The church – adorned with stained glass windows from England – isn't any particular denomination. Anyone of any faith is welcome to worship at the church.
Regular church services have been held at the church over the years, and couples have picked the church as the place to exchange vows. In 1998, a couple donated a small tower – seemingly in proportion to the small church – to mark their marriage.
But even on a day when there is no formal church service, this small sanctuary is incredibly serene. If noting else, this peaceful retreat makes for a nice break from a drive along Interstate 95.
The building, today cared for by the local chamber of commerce, is open 24 hours a day, seven days a week; there isn't even a key. And, visitors from all over the world pop in at all times of day and night to admire Christ Chapel, if the guest book inside is any indication.
A light inside the church turns on as soon as a visitor opens the church's door, revealing the building's simple interior: a dozen chairs in three rows divided by the center aisle face the pulpit.
There isn't a size requirement for a church. Jesus, according to Matthew 18:20, said: "For where two or three have gathered together in My name, I am there in their midst."
Jesus may have said, "two or three," but how about 12? Incidentally, that's enough room for the disciples and Jesus himself in the pulpit.