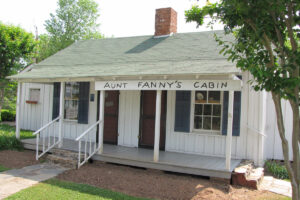 Description
IN 2022, THE CITY OF SMYRNA DEMOLISHED AUNT FANNY'S CABIN.
The building that today serves as the Smyrna Welcome Center was once a famous restaurant serving up Southern-themed fare. Isoline Campbell MacKenna opened Aunt Fanny's Cabin in 1941, turning an 1890s-era cabin into a country store selling food made using the recipes of Fanny Williams, her family's retired cook. The restaurant, originally located a few miles away from its current location operated until 1994.
Address
2875 Atlanta Rd., Smyrna, Georgia 30080
30080
Description
IN JULY 2022, A VANDAL DESTROYED THE GEORGIA GUIDESTONES.
Since first unveiled in March 1980, the Georgia Guidestones have confounded and intrigued tourists. An anonymous benefactor, using the name R.C. Christian, showed up in Elbert County in 1979 to build the monument. According to sources, Christian was working on behalf of an anonymous group. The 19-foot-tall monument, comprised of six granite stones, sits along Georgia Highway 77 on one of the highest tracts of land in Elbert County. The monument, known as "America's Stonehenge," was built using granite from Elbertson, the "Granite Capital of the World."
Address
Hartwell Hwy., Elberton, GA 30635
30635