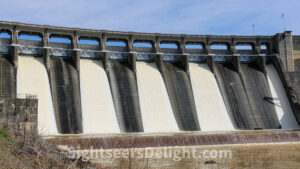 Description
The Flood Control Act of 1941 and the Flood Control Act 1944 authorized the construction Allatoona Dam, but World War II delayed the start of work. Construction began in 1946, and reservoir started to fill in during December 1949, eventually flooding the town of Allatoona. In January 1950, the dam and power station were operation in January 1950. Today, the U.S. Army Corps of Engineers owns and operates the dam.
Address
1052 Old River Rd. SE, Cartersville, GA 30121
30121
Description
Built at a cost of $49 million — or $821 million with inflation — the Hoover Dam stops the Colorado River to create Lake Mead, itself a popular attraction. It has been open to visitors since 1937, and today, roughly 1 million people visit annually; the busy season falls between Memorial Day and Labor Day. Located roughly 35 miles east of Las Vegas, the Hoover Dam is an easy — and worthwhile — day trip from Sin City. A number of tour groups offer sightseeing excursions from Vegas hotels for those travelers who don't have access to a vehicle.
Description
Hoover Dam dams the Big Walnut Creek, forming the Hoover Memorial Reservoir, which holds 20.8 billion gallons of water. Construction began during 1953; the dam was dedicated in 1955 and officially opened in 1958. It was named for brothers Charles P. Hoover and Clarence B. Hoover in honor of their careers with the City of Columbus Waterworks.
Address
7701 Sunbury Rd., Westerville, OH 43081