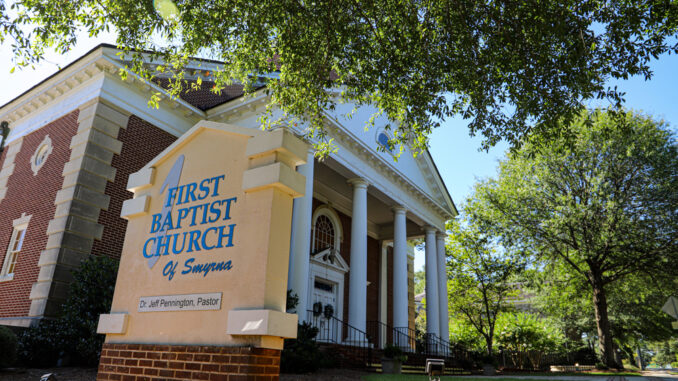 (The Center Square) — Smyrna city officials agreed to move forward with a plan to buy a historic church for a downtown expansion.
Under the plan, Smyrna officials would buy the 8.9-acre Smyrna First Baptist Church campus for $15.8 million. After selling, the church would lease the building from the city for up to four years while they build their new structure on a 5.5-acre tract of land they plan to purchase from the city for $3.3 million.
On Monday, the city council voted 6-1 to proceed with the purchase, agreeing to a memorandum of understanding outlining the deal.
Smyrna resident Alex Backry, who has previously run for mayor and is again seeking the post this year, criticized the move during a public hearing.
"All we know is the price tag of 15.8 million," Backry said during a public hearing. "I cannot get an answer from the city: How much is it going to cost to prepare the land for what's going to go on it? No answer. This is taxpayer money; that's an important detail to add to the 16 million.
"The taxpayers have a right to have a say in how their money is being spent, and all they know is the purchase price," Backry added, saying the city should use the money to reduce its bond debt. "That is pure speculation to me, let alone gambling with taxpayer money with no definitive answers on the property. Government, especially in Smyrna, should not be involved in real estate."
Smyrna Mayor Derek Norton previously said the opportunity to buy the church is one that any city would welcome. City officials have said that residents would have an opportunity to weigh in on how to use the land.
"This isn't something that evolved rapidly. This has been over many, many months of casual conversations that got a little bit more serious that led us to where we are," Norton said during a June public hearing. "What city wouldn't look at an opportunity where you have nine acres contiguous to your downtown and what that might look like for the future of your city?"
This article was published by The Center Square and is republished here with permission. Click here to view the original.