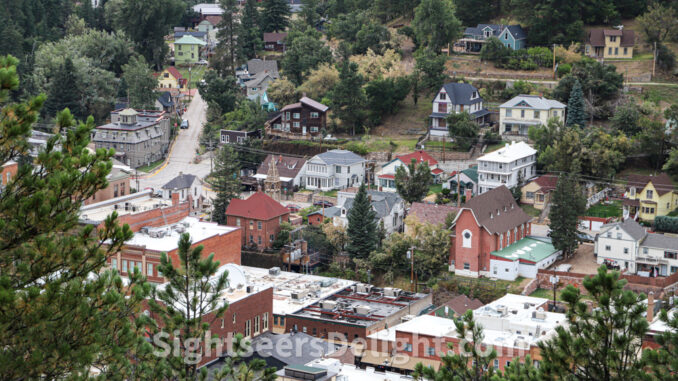 DEADWOOD, South Dakota — The shooting death of James Butler "Wild Bill" Hickok was a seminal moment in the early history of Deadwood.
However, finding the location of the infamous shooting can be a bit confusing as two locations in town claim a connection to the historic moment: No. 10 Saloon at 657 Main St. and Wild Bill Bar, sometimes called the Original Location of Saloon No. 10, at 624 Main St.
Jack McCall shot and killed Hickok on Aug. 2, 1876, while Hickok, seated with his back to the door, played cards at Nuttal & Mann's Saloon No. 10 in Deadwood. The saloon was later renamed the "No. 10 Saloon."
However, in 1879, much of the town, including the saloon site, burned down, meaning the original site may have been lost to history. A clothing store and an inn later operated on the site.
Today, the watering hole in this location is known as Wild Bill Bar. The basement features a recreated version of the original bar.
The other No. 10 Saloon, which is not at the same location as the original Nuttal & Mann's, dates to the 1930s. It features an interesting artifact: The chair Hickok was allegedly sitting in when McCall shot him.
Despite the claim, the furniture's authenticity has been questioned.
For anyone else looking to retrace Hickok's final footsteps, head to Mount Moriah Cemetery. The cemetery is also the final resting place of Calamity Jane, whose burial plot is near Hickok.
Hickok Sculptures
In 1951, sculptor Korczak Ziolkowski, best known for the Crazy Horse Memorial, carved a bust of Wild Bill Hickok into a piece of Black Hills granite as a gift for George Hunter, a local businessman. Hunter, in turn, donated the bust to the city of Deadwood, and today, it is on display on Sherman Street.
A life-sized statue of Hickok also sits outside of the Hampton Inn Deadwood at Tin Lizzie Gaming Resort. James Borglum and Monique Ziolkowski sculpted the likeness of Hickok, which was dedicated on May 27, 1994.