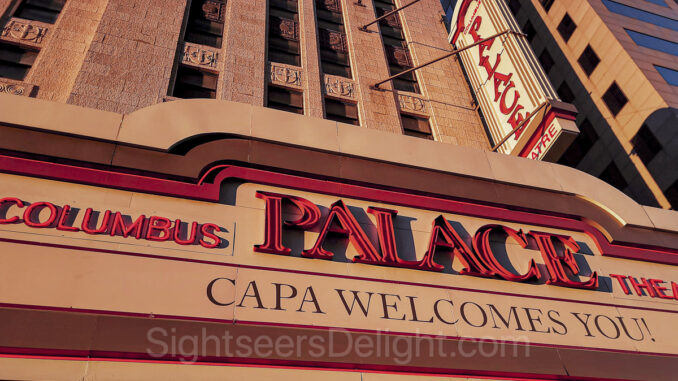 COLUMBUS, Ohio — There was a moment as Bob Dylan played "Key West (Philosopher Pirate)" where it almost seemed surreal.
Dylan has a way of making the realities of the outside world seem so far away. It was a much-needed respite from reality in a year like this, even only for 90 minutes.
Earlier this month, the 80-year-old stepped out on a month-long tour. The "Rough and Rowdy Ways" World Wide Tour 2021-2024 kicked off Nov. 2 in Milwaukee and concludes on Dec. 2 in Washington.
I jumped at the chance to see Dylan again, buying tickets for the tour's fourth stop: Nov. 6 at the Palace Theatre in Columbus.
Anyone hoping to see Dylan perform a best-of-setlist would have been profoundly disappointed. Anyone hoping to see a captivating setlist filled with songs of his latest effort, 2020's "Rough and Rowdy Ways," was no doubt pleased.
I cannot say what was running through his mind, but he seemed to be having fun from my seat. Remarks about sneakers for rock stars only added to the glee.
I'm not one to try to explain the hidden meaning of every Dylan song (no one can except the man himself, in my opinion). But from the moment he walked out on stage with his band mates and launched into "Watching the River Flow" to the final note of "Every Grain of Sand," the evening was transfixing; the toubles of the outside world seemed so remote.
His "Key West (Philosopher Pirate)" performance reminded me of driving to Key West earlier this year. I played the song — one of the highlights on "Rough and Rowdy Ways" — on repeat for much to the drive.
I hoped he would play the song live. I didn't peek at any of the setlists from the tour's earlier shows, so until he began with "McKinley hollered – McKinley squalled," I didn't know whether the song would be in the setlist.
I've turned to Dylan for the soundtrack of my life. Whether it's celebrating ("Make You Feel My Love") to coping with irredeemable loss (the entirety of "Blood on the Tracks" interpreted as an album about loss, not necessarily divorce), Dylan has an endless number of songs for the moment.
Personally, the meaning of a Dylan song is how I want to interpret it at the moment. Like he says in the updated "When I Paint My Masterpiece," some days I want to "lock the doors and turn my back on the world for a while."
However, a Dylan show will always make me want to find the key and step out into the world. Even if that world often seems as if it has "gone wrong."
There aren't a lot of 80 year-olds who can do what Dylan continues to do every year. Last year saw the new album; this year saw an online special, "Shadow Kingdom," and a new entry into the acclaimed "The Bootleg Series."
In the wake of Thanksgiving and as we head toward Christmas, let's be sure to be thankful whenever we can. If we can do that at a Bob Dylan concert, let's seize the opportunity.