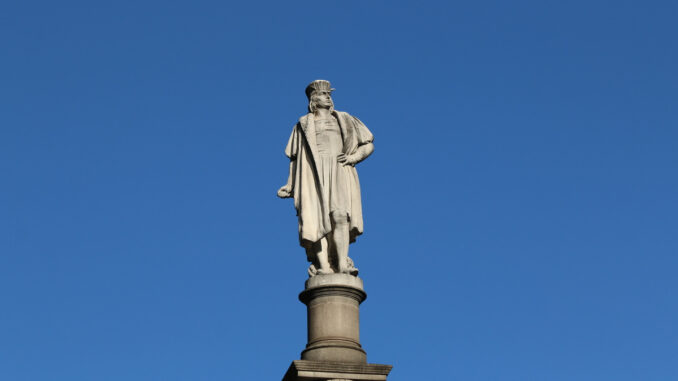 (The Center Square) – Saying it's more about heritage in New York than the man it honors, New York Gov. Andrew Cuomo said Thursday he would not support efforts to remove the Christopher Columbus monument in Manhattan.
The question from a reporter at his daily briefing comes at a time when national protests against police brutality and the death of George Floyd in Minneapolis have evolved into broader demonstrations against racism. Columbus, long credited with discovering the New World that led to European colonization of the Americas, has had his record heavily scrutinized in recent years as scholars have focused on the way he treated the natives he encountered in his trips across the Atlantic Ocean.
The record of Columbus now is considered one of racism and slavery as much as if not more than it is for discovery. Some communities now celebrate Indigenous Peoples Day instead of Columbus Day in October.
On Wednesday, the St. Paul Pioneer-Press reported demonstrators in Minnesota tore down a Columbus statue at the state Capitol. That same day, a Columbus statue in Boston's North End was beheaded and subsequently removed to storage, WBZ-TV reported.
The night before in Richmond, Va., a Columbus statue in the Virginia capital city was vandalized and thrown into a lake, according to WWBT-TV.
Despite those moves taken by protesters and others, New York's governor, whose grandparents came from Italy nearly a century ago, said the statue is more about the community than the explorer.
"I understand the feelings about Christopher Columbus and some of his acts, which nobody would support, but the statue has come to represent and signify an appreciation for the Italian American contribution to New York," he said. "So for that reason, I support it."
Cuomo also did not express support for measures that would demilitarize law enforcement in the state. He told reporters that the reform movement isn't about banning tear gas, but rather it's focused on eliminating decades of institutional racism and injustice.
Moments before at the beginning of the briefing, Cuomo called the state "the progressive capital of the United States." It's a term he's used repeatedly in recent briefings to discuss a push for police reforms, noting the way New York pushed for marriage equality and other social reforms.
This story first appeared on The Center Square.